Summer Experience Schedule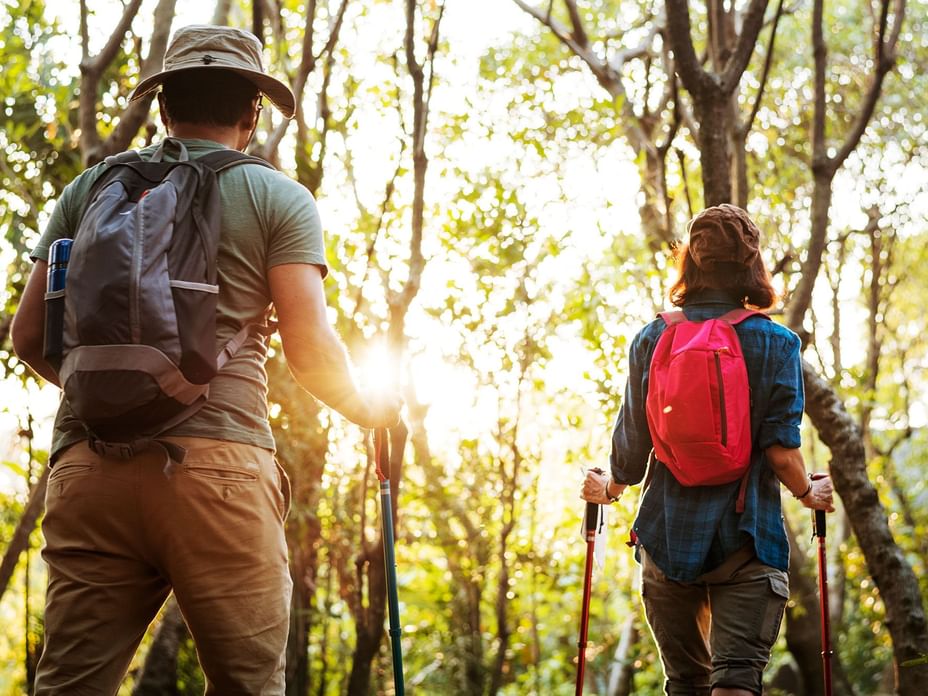 Escape to an enchanting summer retreat where tranquility meets adventure. Immerse yourself in the beauty of nature, indulge in rejuvenating wellness activities, and be captivated by fascinating animal demonstrations. Unwind, explore, and create unforgettable memories at High Peaks Resort - an oasis of serenity and excitement for the perfect summer getaway.
Note: Availability for scheduled activities may vary. Please inquire at the time of booking for the most up-to-date information.
Tuesday10:00 AM Aqua Aerobics with Marietta Brady
Wednesday9:00 AM Yoga with Noelle Wood
3:00 PM Nature with Ed Kanze
Thursday10:00 AM Aqua Aerobics with Marietta Brady
3:30 PM Stretch for Flexibility with Leigh Ann Tahash
Friday9:00 AM Qigong with Mary Bartel
Saturday10:00 AM Adirondack Raptors with Mark Manske
11:00 AM Yoga with Noelle Wood
Sunday8:30 AM Chakradance with Sue Delamarter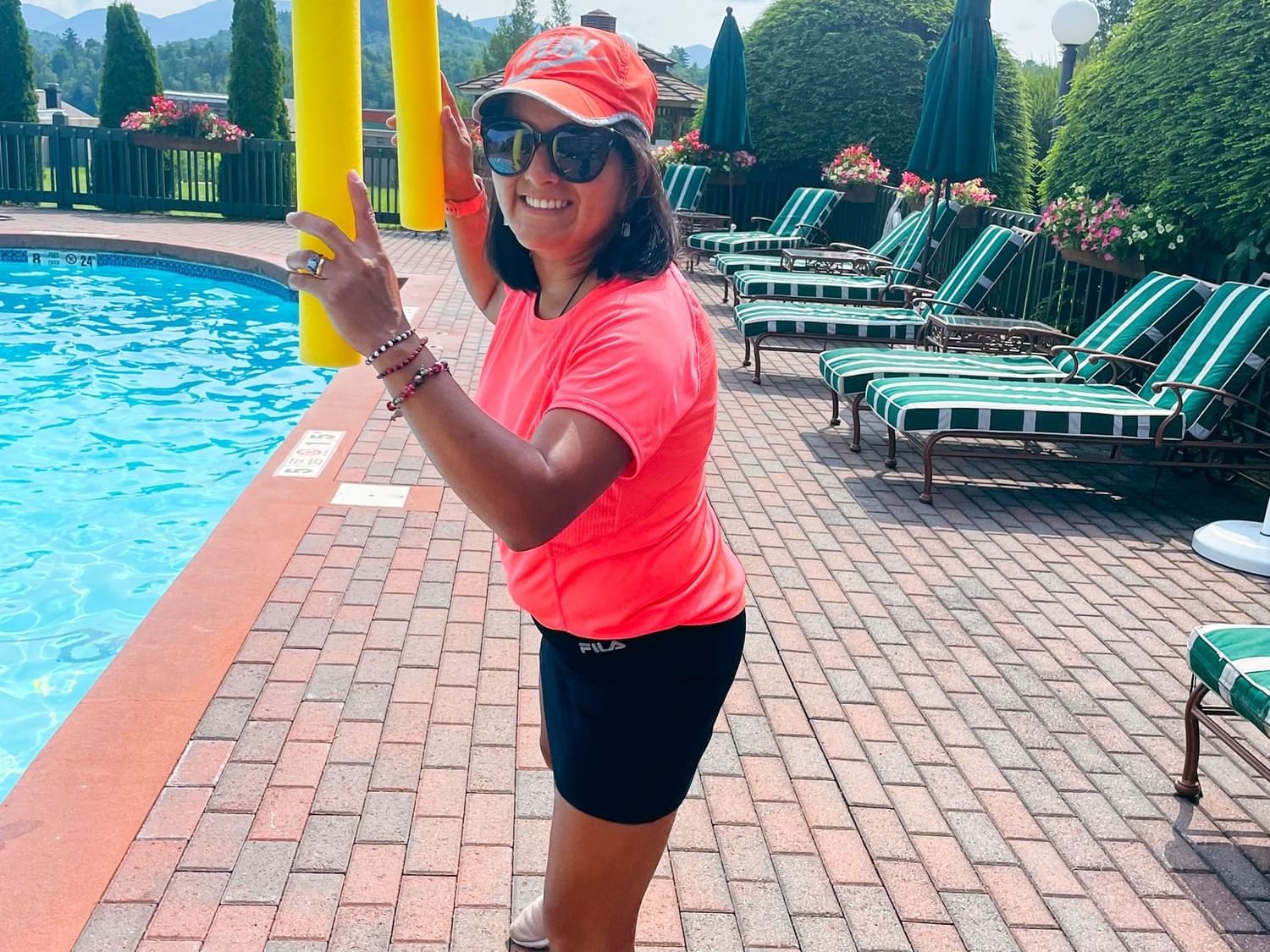 Aqua Aerobics with Marietta Brady
Water Aerobics is a low-impact exercise program performed in a pool, combining cardiovascular movements with resistance training in a buoyant environment. This invigorating workout utilizes the natural resistance of water to strengthen muscles, improve flexibility, and boost cardiovascular fitness while minimizing strain on the joints. With a variety of movements such as jogging, kicking, and arm exercises, water aerobics offers a fun and refreshing way to improve overall fitness, burn calories, and enhance overall well-being. Dive in and experience the energizing benefits of water aerobics for a balanced and enjoyable workout.
About Marietta Brady: Marietta Brady, a graduate of San Marcos National University in Lima, Peru, holds a Bachelor's degree in Physical Education. With certifications as a Water Safety Instructor (WSI) and Lifeguard from the American Red Cross, as well as CPR/AED/First Aid training, Marietta has dedicated over 17 years to teaching swimming lessons. Passionate about promoting water safety, she has worked with individuals of all ages, including those with disabilities, emphasizing the importance of basic swimming skills in the Adirondacks community. Outside of her role as a swimming and aquarobics instructor at the Adirondack Health Medical Fitness Center, Marietta enjoys hiking the Adirondack Park and has launched an innovative program called "Spanish For all," incorporating movement, games, and music to teach Spanish.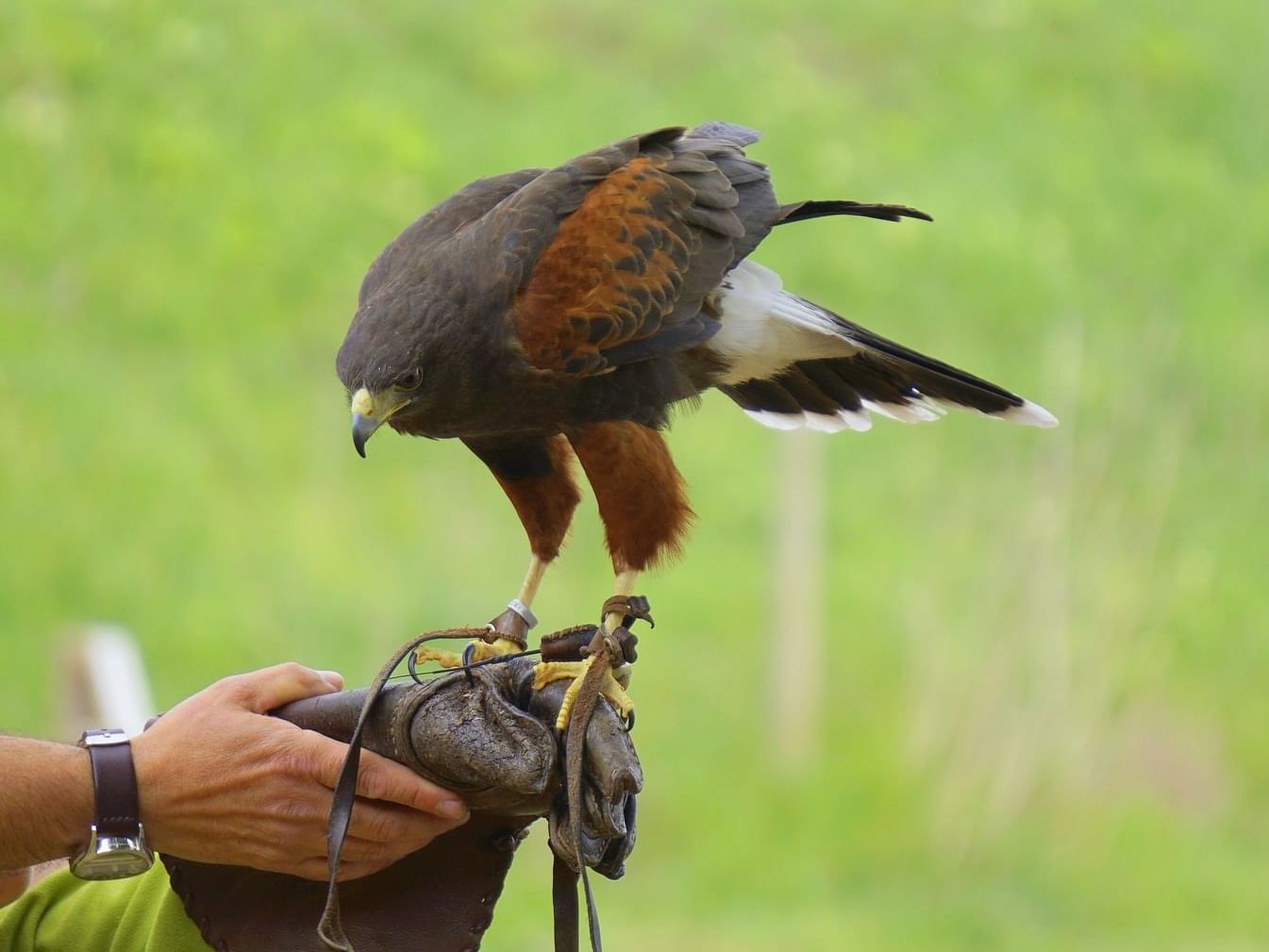 Birds of Prey with Mark Manske
Discover the fascinating world of Birds of Prey in an engaging and educational demonstration. Gain a deeper understanding of these remarkable creatures, including owls, hawks, and falcons, as knowledgeable experts share insights into their behavior, habitats, and conservation. Marvel at their intricate adaptations, such as keen eyesight and powerful talons, while learning about their important role in maintaining ecological balance. Experience a unique opportunity to observe these captivating birds up close, appreciating their beauty and gaining a newfound appreciation for the wonders of the avian world.
About Mark Manske: Mark Manske: the founder and sole proprietor of Adirondack Raptor Inc., has an illustrious background rich in wildlife education and expertise. With 27 years of experience as a public school educator and a current role as an Adjunct Professor at Paul Smiths College, his dedication to sharing knowledge is evident. Mark's extensive wildlife credentials include serving as a wildlife rehabilitator, a master falconer, a master raptor bander, and a licensed nuisance wildlife control agent. Additionally, he has contributed captivating stories to the EMBARK column, a publication by the Adirondack Daily Enterprise, and has published numerous articles on birds of prey in esteemed scientific journals. Mark's training under the renowned biologists, Drs. Frederick and Frances Hamerstrom, at the University of Wisconsin at Stevens Point further enhances his expertise. Prepare to be inspired by Mark's wealth of knowledge and passion for wildlife as you delve into the fascinating world of raptors with Adirondack Raptor Inc.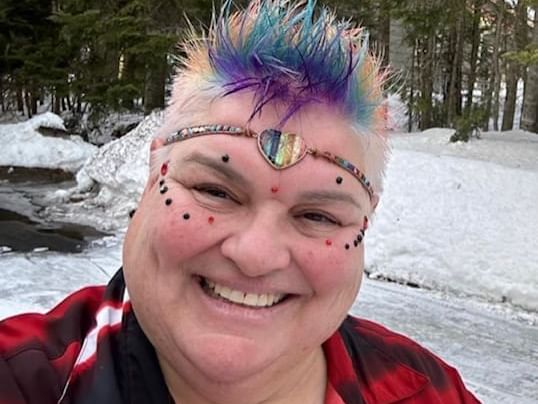 Chakradance with Sue Delamarter
Chakradance is a unique and immersive movement practice that blends music, spontaneous dance, and guided meditation to promote healing and balance the body's energy centers, known as chakras. With each session dedicated to a specific chakra, participants are encouraged to express themselves freely through dance, tapping into their innermost emotions and allowing the energy to flow. Through rhythmic movements, visualizations, and sacred sounds, Chakradance offers a transformative experience that harmonizes the mind, body, and spirit, leaving participants feeling grounded, rejuvenated, and connected to their true selves. Step into the dance of the chakras and unlock the power within you.
About Sue Delamarter: With an extensive background as an Occupational Therapist spanning three decades, Sue brings a wealth of experience to her current endeavors. Following her retirement, she now focuses on sharing her knowledge and expertise in chakradance, chakradance kids, and various healing modalities from the comfort of her home. As the proud owner of Dance in the Rain Healing, Sue offers an array of services throughout the North Country, including deep pressure massage, reiki healing and attunements, reflexology, and craniosacral therapy. Embrace the opportunity to benefit from Sue's diverse practices as she guides you on a transformative journey towards holistic well-being.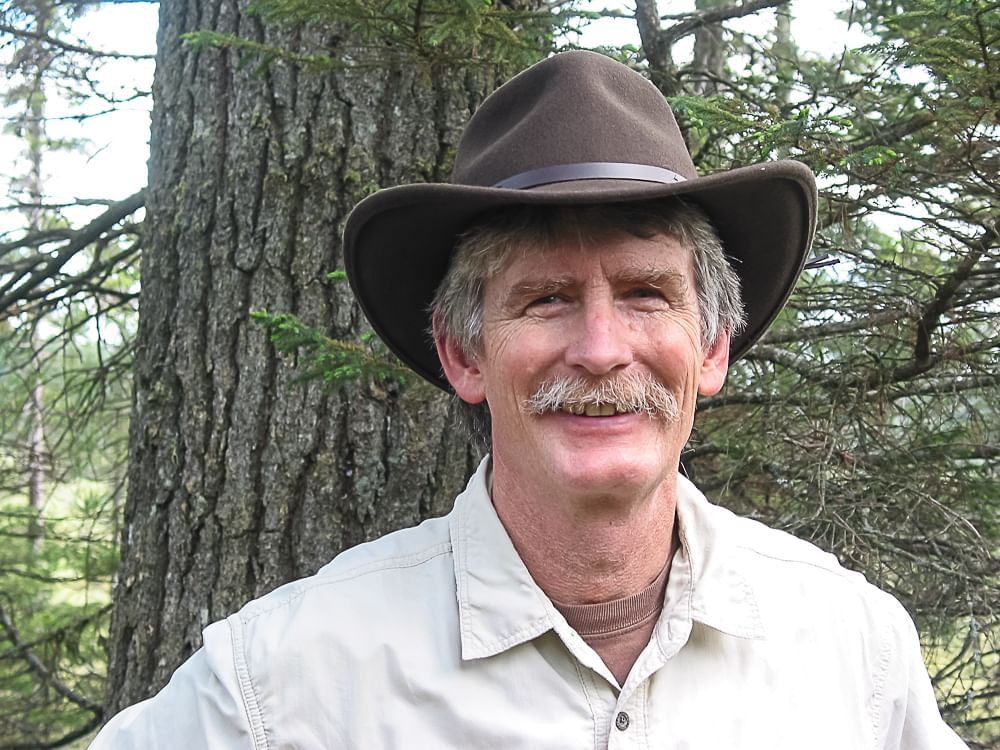 Nature Tours with Ed Kanze
Embark on a journey into the heart of the Adirondacks with a nature presentation featuring renowned naturalist Ed Kanze. Gather around the crackling fire as Ed shares his wealth of knowledge, captivating you with fascinating tales and insights about the rich natural history, wildlife, and conservation efforts of the Adirondack region. After the enlightening conversation, join Ed on a guided field trip to the breathtaking Brewster Peninsula Trail in Lake Placid, NY. Explore the pristine beauty of this scenic trail, surrounded by towering pines, serene lakeshores, and diverse flora and fauna, while benefiting from Ed's expert guidance and his passion for the Adirondacks.
About Ed Kanze: Ed Kanze is an accomplished naturalist, author, and Adirondack guide with a lifelong passion for the outdoors. With over 30 years of experience leading walks through wild landscapes, he brings a deep understanding of nature and a contagious enthusiasm to every adventure. Ed's diverse background includes working as a National Park Ranger, teaching field ecology, and writing captivating nature columns and books. His knowledge, storytelling prowess, and unwavering love for the Adirondacks make him a trusted guide, leading others on transformative journeys into the beauty and wonders of the natural world.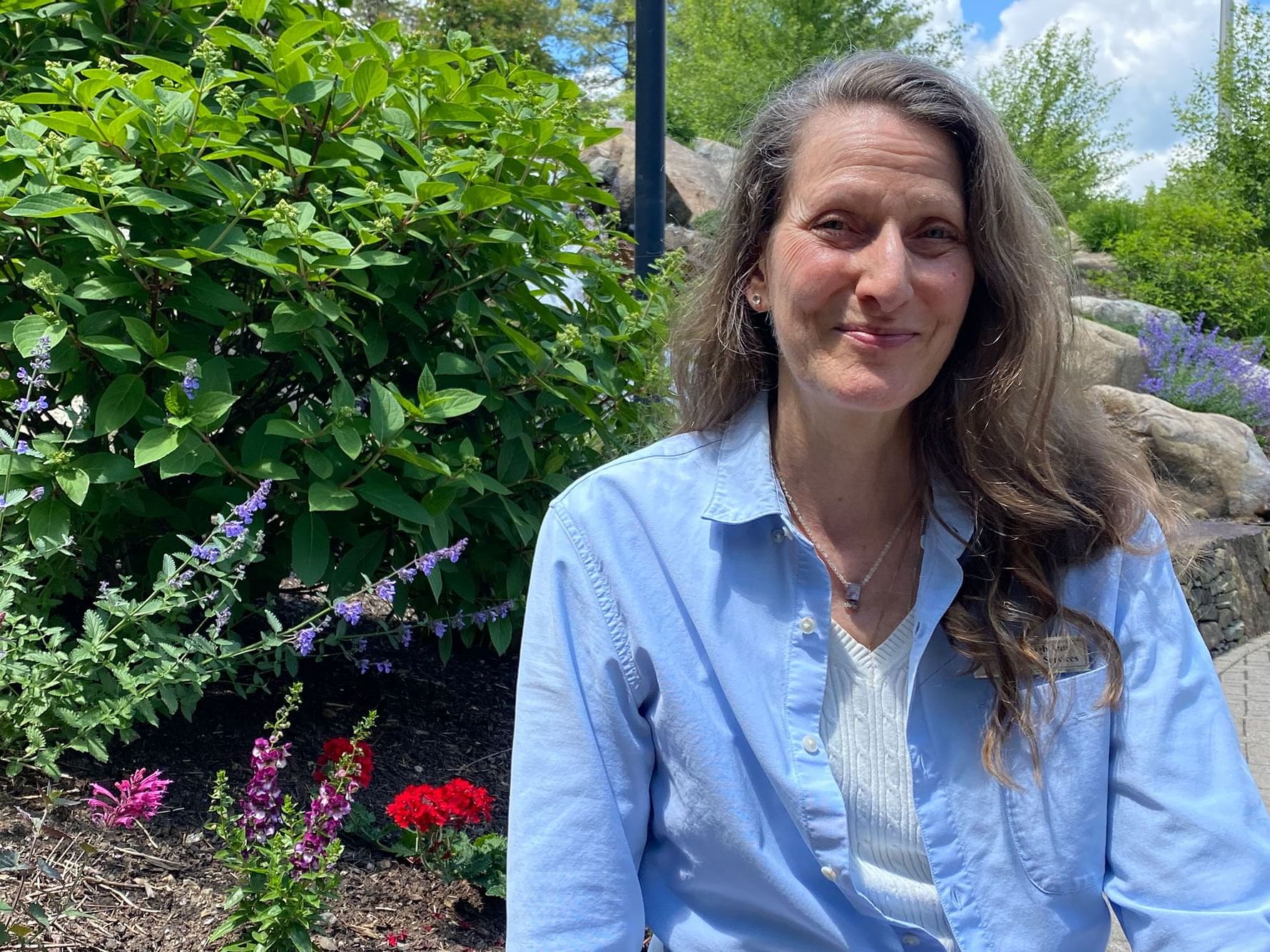 Stretch for Flexibility with Leigh Ann Tahash
Join Leigh Ann in an experience of stretch - lengthening, decompressing, and realigning your body with an emphasis on mindfulness, deep breathing, and self-awareness. The class begins with some movement and standing stretches leading into deeper stretches including lunges and laying on your back. As you move your awareness into your body you'll release tension, stress, and feel more fully present, increase mobility and range of motion in your joints, and experience deep relaxation overall. You'll leave feeling longer, taller, and lighter.
About Leigh Ann Tahash: Leigh Ann Tahash studied ballet while earning her Bachelor of Arts degree from Virginia Intermont College in Bristol, Virginia in 1984. In addition to her extensive dance training, she has studied and taught children and adults in the Washington, DC metropolitan area and at Inner Quest Yoga & Wellness Center. Her teaching philosophy encourages a deep understanding of the body through proper placement, alignment, and technique. The Stretch Technique is that of Lucy Bowen McCauley, dancer, choreographer, and teacher at the Academy of the Maryland Youth Ballet. Leigh Ann's contribution to this technique comes from over 30 years of teaching and observation of her students, her own past dance and movement training, plus experiences with Educational Kinesiology, bodywork, and healing energy therapies.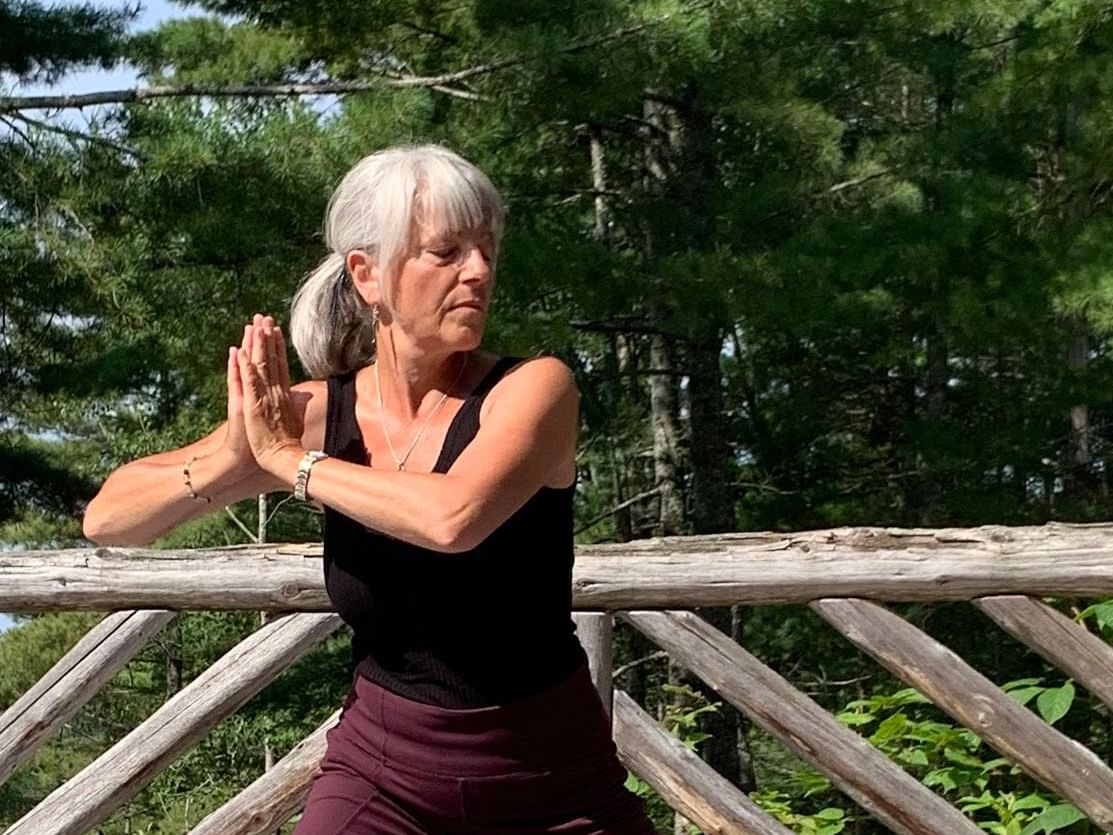 Taoist Yoga with Mary Bartel
Qi = vital energy
Gong = skill or mastery
These mindful movement classes are therapeutic for the whole body inviting you to savor what is most essential – life itself! We practice meditation, breathwork and gentle exercises from a standing position. Learn to connect with the laws of nature - the elements and seasons - through postures and gestures that cultivate a greater sense of peace, clarity, vitality, and even longevity. No experience required – all are welcome.
About Mary Bartel: Mary Bartel, owner of Inner Quest Yoga & Wellness Center in Saranac Lake, has led mind-body practices professionally for twenty-four years, certified as a Structural Yoga Therapist and Meditation instructor. Now she works more one-on-one designing programs for people to manage chronic conditions and ease physical and/or mental discomfort. She encourages people to live in love with life - savoring precious moments!
There will be no Taoist Yoga on August 25.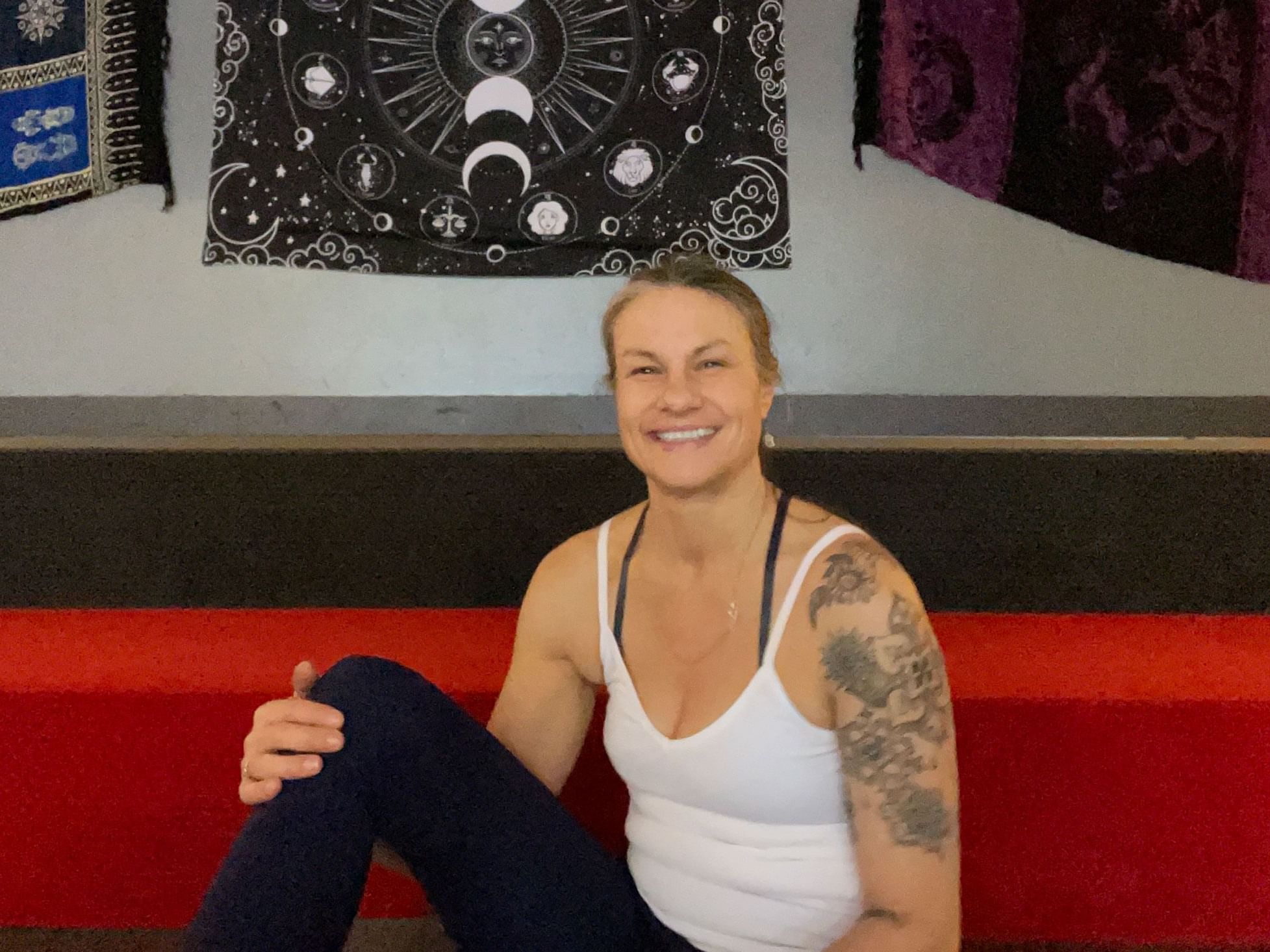 Vinyasa Flow Yoga with Noelle Wood
What is yoga?
Yoga is the breath. Yoga is stillness. Yoga is movement. Yoga is to be. Yoga is you.
Join Noelle Wood for one hour to discover your higher self; physically, mentally, and spiritually. Each class begins with breathing exercises and a gentle warmup. The class gradually increases movement focusing on your personal needs and is followed by a restorative, peaceful savasana. Classes are themed to music with added inspiration and fun. Mats and blocks are provided.
About Noelle Wood: Noelle Wood began her yoga journey in 2016, seeking relief from back pain. Through dedicated practice, she discovered the power of yoga to heal both physically and emotionally. Certified in Vinyasa Flow and Yin Yoga by Evolation Yoga, Noelle offers classes that combine physical exertion with introspection, utilizing inspiring music and soundscapes to enhance the experience. Embracing the mantra "Be Open," she invites others to join her in unlocking the transformative potential of yoga.
Yoga will be unavailable August 26.