High Falls Gorge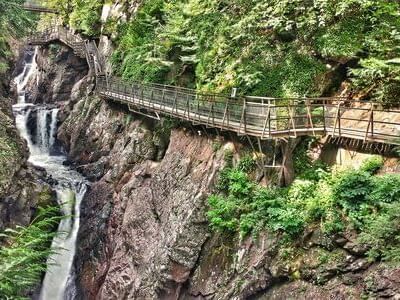 High Falls Gorge is a natural attraction located in the Adirondack Mountains of New York near Lake Placid. It features a series of waterfalls that are formed by the Ausable River as it flows through a deep and narrow gorge. Visitors can take a guided tour of the gorge and explore the unique rock formations, including the main attraction, the High Falls waterfall, which is approximately 115 feet high. The gorge is also home to a variety of plant and animal life, making it a popular destination for nature enthusiasts.
One of the main attractions at High Falls Gorge is the "Nature Trail" which is a self-guided tour along a wooden walkway that winds through the gorge. Visitors can see the falls from different perspectives, including an observation deck that overlooks the main waterfall. The trail also includes several educational signs that provide information about the geology, history, and ecology of the area.
High Falls Gorge also offers a variety of other activities for visitors to enjoy, including rock climbing, tubing and white water rafting. The park also has an observation deck and a gift shop, where visitors can purchase souvenirs and learn more about the history and geology of the gorge. Overall, High Falls Gorge is a must-see destination for anyone visiting the Adirondack Mountains and is a great way to enjoy the natural beauty of the area while also learning about the geological formation and the ecology of the region.
Located 8.7 miles from High Peaks Resort.
4761 New York 86 12997 Wilmington USA