Santa's Workshop at the North Pole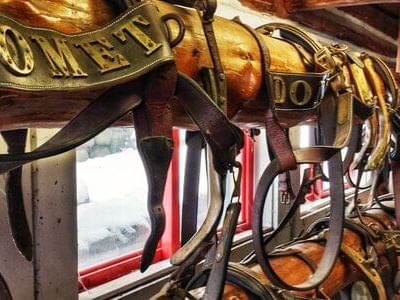 Santa's Workshop is a theme park located in North Pole, New York. The park is designed to resemble Santa's workshop, complete with toy-making elves, reindeer, and of course, Santa Claus himself. Visitors can take a tour of the "workshop" and see the elves hard at work creating toys for children all around the world. There are also several rides and attractions for visitors of all ages, including a train ride through the "Arctic Circle" and a roller coaster called the "Rudolph's Reindeer Ride."
In addition to the rides and attractions, Santa's Workshop also has several stores and shops where visitors can purchase gifts and souvenirs. These include the "Toy Maker's Shop," where visitors can watch the elves make toys, and the "Reindeer Barn," where visitors can meet and take photos with Santa's reindeer. There is also a food court where visitors can grab a bite to eat and a place to meet Santa and tell him their Christmas wishes.
Santa's Workshop is open seasonally, typically from late spring through early winter, and it is a popular destination for families, especially during the holiday season. It's a fun place for children and adults to experience the magic of Christmas and get into the holiday spirit. Visitors can take a tour, meet Santa, take a ride, and even take a piece of the magic home with them.
Located 14.5 miles from High Peaks Resort.
324 Whiteface Memorial Highway 12997 Wilmington United States