Ski Adirondacks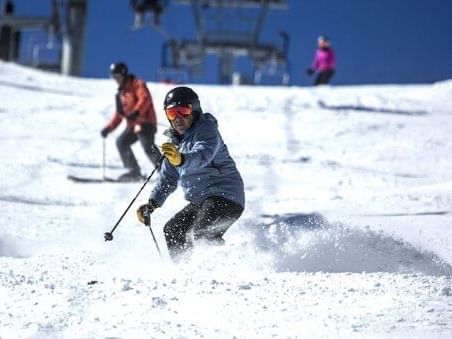 Embrace the thrill of skiing in the Adirondacks with our High Peaks Resort "Ski Adirondacks" package. Your cozy accommodations boast stunning views of Mirror Lake and the Adirondack Mountains, ensuring a restful night's sleep after your day on the slopes. As a bonus, you'll receive a $25 per night property credit to use at either Dancing Bears Restaurant or The Market at High Peaks Resort, perfect for noshing on breakfast indulging in a delicious meal, or grabbing some snacks for your ski adventure.
We understand your passion for skiing, so we're offering a guaranteed 2:00 PM checkout on your departure day. This extra time allows you to maximize your ski experience on Whiteface Mountain before bidding farewell to the slopes. Don't miss this opportunity to combine the thrill of skiing with the comfort of our resort. Book your "Ski Adirondacks" package now for an unforgettable winter escape!
The offer includes:
Guaranteed 2:00 PM checkout on your departure
$25 nightly property credit
Highlights
Lake House Amenities
Amenities included in all Lake House stays:
Welcome beverage on arrival
Morning coffee and afternoon refreshments in the High Peaks Resort lobby
Access to our 24-hour fitness center
Access to our indoor pool
High-Speed complimentary Wi-Fi
Seasonal Amenities
Weather-dependent amenities include in all Lake House stays:
Complimentary snowshoe rental at our Guest Services desk (subject to availability).
Complimentary admission to Whiteface Club & Resort nordic center for cross-country skiing and snowshoeing.
Terms and conditions
Policies
Lift tickets to Whiteface Mountain must be purchased separately.
Season begins approximately November 25 and runs through approximately April 9.
Rate does not include taxes, gratuities, or other incidental charges.