Complimentary Watercraft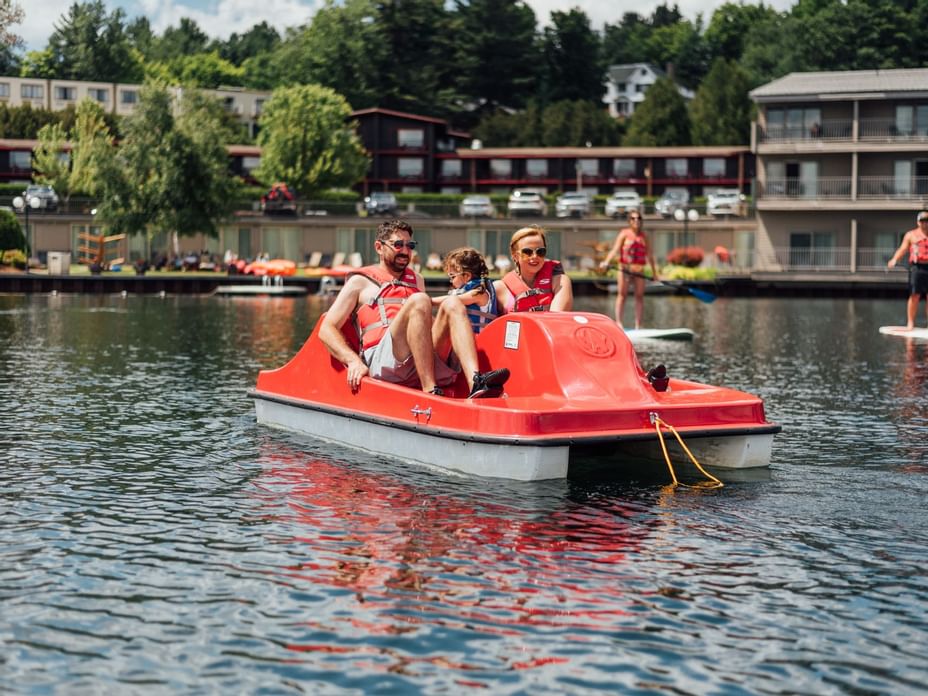 Mirror Lake is a spectacular natural wonder to take in during a visit to Lake Placid year-round, so naturally, playing on Mirror Lake is heralded by guests as a must during a stay at High Peaks Resort. In the summer, use our complimentary paddling equipment, including kayaks, stand-up paddleboards, and pedalboats to glide along its calm surface as the sun comes up, or paddle off into the sunset after a day of Adirondack adventures.
Boats and watercraft are available from 8:00 AM to 7:00 PM.

*Please Note: Due to safety concerns, our boats and SUPs are only available for use if the water temperature in Mirror Lake is above 62 degrees. Therefore, our water equipment is typically available from mid-June until early October. Please contact us or see the front desk with any questions regarding availability.
Policies
Watercraft are available from 10:00 AM to 6:00 PM, weather dependent. The last boat is available at 5:30 PM.
Alcohol is not permitted on the waterfront lawn, on watercraft, or in the pool enclosure.
Life vests MUST be worn at all times regardless of age.
Any guest under the age of 16 MUST be accompanied by an adult 18 years of age or older.
Boating excursions are available in 30-minute increments. If you would like to spend longer on the water, please return when the boat is due and if no one is waiting for the boat we will happily send you out again.
Our property is not supervised by a lifeguard. Never swim alone.
Fishing is allowed on the lake with a NYS fishing license. Licenses can be purchased on the NYS DECALS website.