Adirondack Experience Museum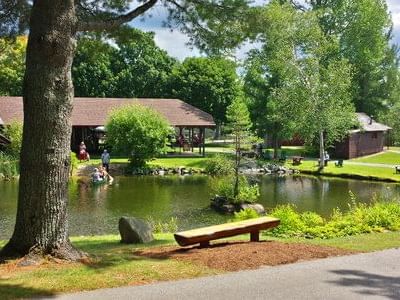 The Adirondack Experience Museum at Blue Mountain Lake is a museum located in the Adirondack Mountains of New York. It aims to educate visitors about the history, culture, and natural resources of the Adirondack region. The museum's collection includes artifacts, photographs, and interactive exhibits that tell the story of the people and the land of the Adirondacks from the late 1700s to the present day.
The museum's exhibits are divided into several galleries, including the Adirondack Life gallery, which showcases the daily lives of people who lived and worked in the Adirondacks. The Wilderness and Conservation gallery explores the region's natural resources and the efforts to protect them. The Adirondack Great Camps gallery highlights the grand camps built by wealthy families in the late 1800s and early 1900s as summer retreats.
The Adirondack Experience Museum also offers a variety of educational programs and activities for visitors of all ages. These include guided tours, workshops, lectures, and special events. The museum's campus also includes several outdoor exhibits, including a replica of an Adirondack guideboat and a blacksmith shop. The museum is open from May through October and is a great destination for those interested in the history and culture of the Adirondack region.
Located 61.1 miles / 1 hour 17 minutes from High Peaks Resort.
9097 New York 30 12812 Blue Mountain Lake USA