Birdwatching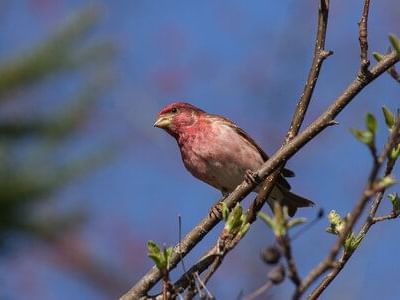 The High Peaks region of the Adirondack Mountains is a prime destination for birdwatchers. The area is home to a diverse array of bird species, including the rare Bicknell's thrush and the spruce grouse. Birdwatchers can also expect to see a variety of warblers, vireos, and flycatchers during their excursions.
One popular spot for birdwatching in the High Peaks region is the Whiteface Mountain summit, which offers a panoramic view of the surrounding area. This location is known for its high altitude species such as the Bicknell's thrush, blackpoll warbler, and the boreal chickadee.
Another great spot for birdwatching in the High Peaks region is the Marcy Dam, which is located near the base of Mount Marcy. This location is particularly popular for seeing warblers and other songbirds during their spring migration. The nearby hiking trails also provide opportunities for birders to explore the area and potentially spot even more species.
For more information about birdwatching in the Adirondack Mountains check out our blog "Birdwatching at Bloomingdale Blog".