5 Adirondack Hikes Perfect for the Whole Family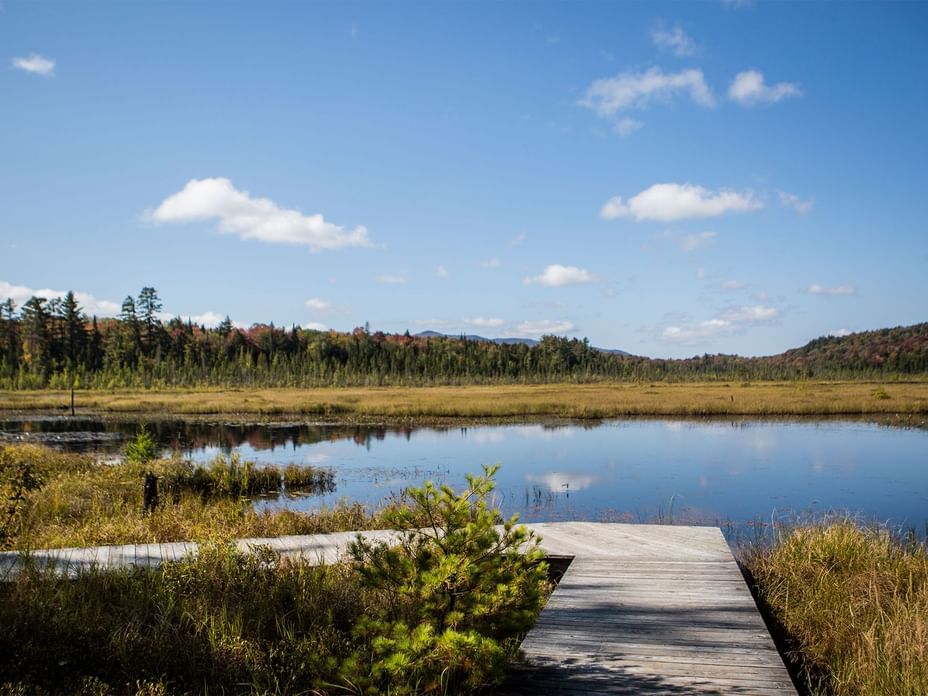 As the sun begins to set on summer, seize those precious last-minute moments of freedom before the shorter days and sweater weather of fall. Nestled in the heart of the Adirondacks, this breathtaking region offers a treasure trove of Lake Placid hiking trails that are perfect for families seeking cherished moments together. From serene woodland strolls to awe-inspiring mountain summits, join us as we uncover five easy Lake Placid hikes for your family's last-minute getaway.
Bloomingdale Bog Trail
Our journey begins with the tranquil yet captivating Bloomingdale Bog Trail. This easy hike welcomes families to explore the delicate balance of a bog ecosystem while being surrounded by stunning vistas. Embrace the stillness of the water and the beauty of blooming wildflowers. It's a chance to disconnect from the digital world and immerse yourselves in the wonder of nature, forging connections that will last a lifetime.
Brewster Peninsula Boundary and Ridge Loop Trail
Is there a budding naturalist in your family? This August, High Peaks Resort is proud to present " Nature Talks and Trails" with local Adirondack Guide and Naturalist Ed Kanze beginning at 3 PM in the High Peaks Resort lobby. Imagine the excitement on your family's faces as they embark on a journey that combines nature's beauty with insightful storytelling. The trail weaves along the shimmering waters of Lake Placid, introducing your family to the magic of the Adirondacks through captivating tales and breathtaking vistas.
Henry's Woods Loop Trail
For families yearning for a tranquil woodland escape, the Henry's Woods Loop Trail is a gem waiting to be discovered. This leisurely stroll meanders through a pristine forest, offering a serene retreat from the hustle and bustle of everyday life. Let your children's imagination run wild as you spot squirrels darting through the trees and discover hidden wonders along the trail. This hike is perfect for a leisurely afternoon of bonding and exploration.
Barnum Brook Trail at Paul Smith's VIC
The Barnum Brook Trail at Paul Smith's VIC (Visitor Interpretive Center) promises an educational and captivating adventure. Traverse wooden boardwalks and meandering paths that guide you through diverse ecosystems. Keep an eye out for wildlife and engage your curious minds with interpretive signs that reveal the secrets of the Adirondack wilderness. This hike is an interactive experience that fosters a deeper connection to the environment.
Mount Jo Loop Trail
The Mount Jo Loop Trail is a highlight of Lake Placid's family-friendly hiking adventures. This moderate trek through lush forests culminates in a summit boasting panoramic views that will leave your family spellbound. As you ascend, inspire your young adventurers with stories of the captivating views awaiting them at the peak. Pack a delightful picnic to savor amidst the breathtaking vistas, creating memories that will linger long after the school year begins. You will need to reserve parking reservations at Adirondack Mountain Club separately.
Before your fall routine settles in, seize the opportunity for a transformative escape to Lake Placid's splendor. Whether you're strolling through bogs, scaling summits, or immersing in nature's wonders, each Lake Placid hiking trail is matched by the comfort and hospitality of High Peaks Resort. Your adventure will be etched with memories of awe-inspiring landscapes, enriching experiences, and the warm embrace of your luxurious retreat. Lake Placid calls, and High Peaks Resort answers, promising an unforgettable getaway that blends natural beauty with the indulgence of premier hospitality.