Elevate Your Corporate Experience
Unforgettable Events in the Adirondacks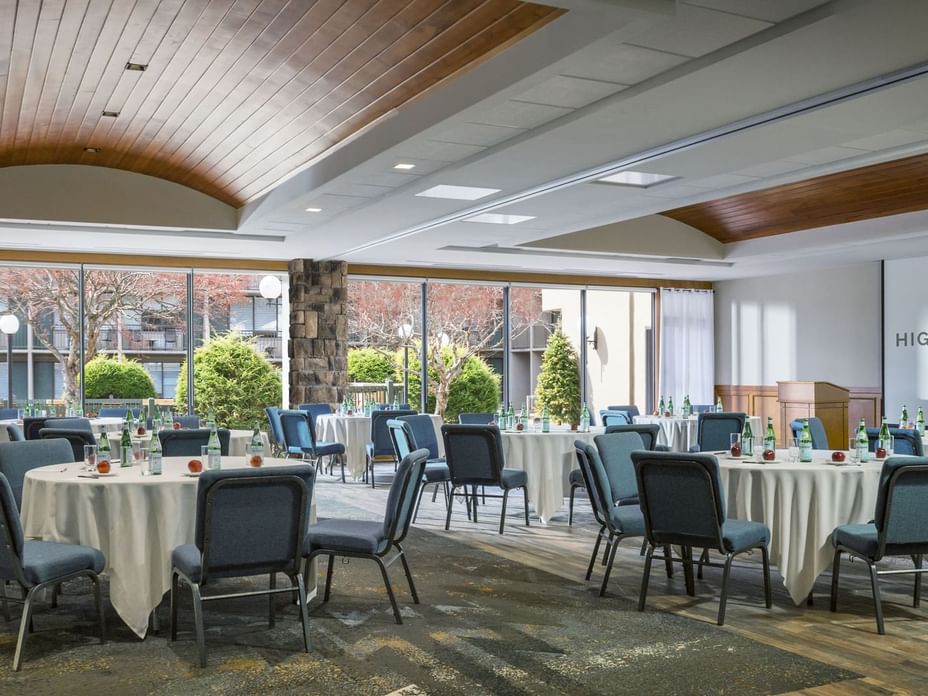 Picture this: You step into the room, greeted by a spacious and airy atmosphere, accompanied by the invigorating coolness of the A/C. There's a corner dedicated to coffee, beverages, and delectable pastries. The ambiance feels just right, not at all cramped. The folks at your table exude friendliness. You think to yourself, "This is where I could spend a whole day." But as the morning progresses, the air stagnates, your bottle wrapper becomes a folded paper masterpiece, and Rick Astley's 'Never Gonna Give You Up' starts its endless loop in your mind.
When was the last time a conference left you genuinely excited about the content? When did a meeting fill you with a sense of accomplishment? When did learning or discussions truly engage you?
Welcome to a New Dimension of Team Building
What if your corporate event took place 120 meters in the air? Envision being whisked up a mountain via a gondola, arriving at a networking reception atop a peak, offering panoramic views of the majestic Adirondacks. What if your meeting involved s'mores by a roaring campfire? What if your company's awards banquet unfolded atop a 120-meter Olympic ski jump? The Adirondack High Peaks boast awe-inspiring settings that provide the perfect canvas for your unforgettable occasion.
Navigating Pressure Like a Pro Forest Ranger
Whether your business is in its infancy or firmly established, a united team of dynamic, trustworthy leaders is vital for fostering an exceptional company culture. In the wilds of the Adirondacks, the significance of effective leadership takes center stage. Collaborate with a wilderness expert to design a leadership workshop that hones critical thinking, decision-making, planning, and execution against the backdrop of a stunning environment.
Olympic Success Keys for Your Team
Your company has the drive, but what about communication? Enter curling, the unconventional yet incredibly effective team sport. At first, it might appear amusing, but soon your team will forget about looking dignified and be consumed by the game's camaraderie. Curling, a low-impact sport, demands seamless communication and teamwork—only through effective collaboration can your team achieve victory. Now that's an icebreaker worth experiencing!
Summiting Insights Alongside Information
In today's digitally connected world, we often overlook the tranquil embrace of nature amid the technological hustle. By incorporating mindfulness and communication exercises, the guides at Adirondack Riverwalking help participants truly grasp the transformative power of nature. Whether through on-site group yoga, Qigong sessions, or profound nature experiences, your summit becomes a profound journey of insight.
A Retreat to Your Private Lakeside Haven
You see your colleagues more often than your friends. Why not transform Lake House into your own private escape? Gather around board games, immerse yourselves in literature, and play poker with Monopoly money—this is the chance to connect on a personal level.
At High Peaks Resort, we want your attendees to gain as much as you're investing in your event. We understand the revitalizing impact of natural light, the influence of changing spaces on knowledge retention, and the free flow of ideas around a campfire's glow. Host your next event with us, where our team of account managers will collaborate with your event coordinators to create an extraordinary reflection of your company's culture—a celebration like no other.