Four Easy Hikes to Get in Shape for Summer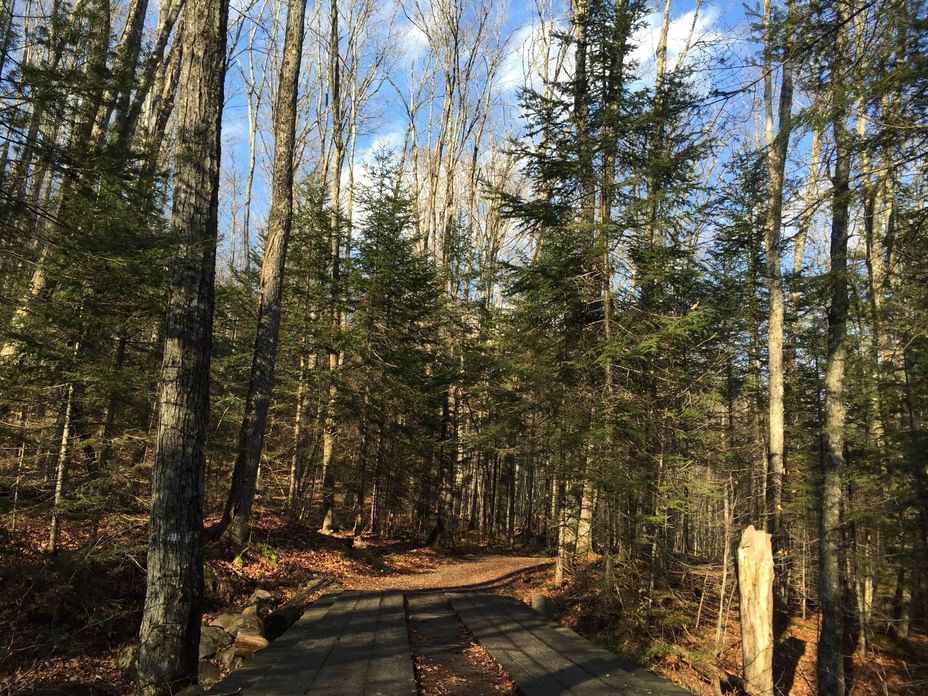 If you're anything like me, no amount of snowshoeing could keep up with the rich foods I just couldn't keep away from this winter and my vitamin D levels are at an all-time low. Now that the ice is out, and the lower trails are starting to dry, I'm looking forward to playing outside.
Bloomingdale Bog
This is more of a walk than a hike, but the Bloomingdale Bog Trail is one of our favorite Adirondack hikes for families. The relatively flat, open, and straight trail starts in Bloomingdale and ends 10 miles away in Saranac Lake – or you can hike the first section which is 6.5 miles roundtrip. The negligible incline is manageable for all ages, and it's a great trail for bird watching, and dog walking.
12 miles from High Peaks Resort
Paul Smiths VIC
The Visitors Interpretive Center (VIC) at Paul Smiths College is a one-stop-shop for spring conditioning. With 3,000 acres to explore, the VIC offers a little bit of everything; from the wheelchair-accessible Barnum Brook Trail to the rolling terrain of Black Pond or Heron Marsh or the steeper climb of Jenkins Mountain. This is another location you will find amazing birds and beautiful wildflowers.Â
22 miles from High Peaks Resort
Henry's Woods
Just a hop, skip and a jump from High Peaks Resort, the five trails of Henry's Woods offer a wealth of spring conditioning opportunities. Easy to moderate in elevation, the Henry's Woods trail system can be combined in lots of different ways to add elevation, distance or just to keep things interesting.
2 miles from High Peaks Resort
Baker Mountain
Clocking in at under a mile to the summit, Baker Mountain in Saranac Lake is a great hike when you're ready for a little elevation, but not too much. And the payoff makes it so worth it. At the summit, you'll see the town of Saranac Lake, the Mackenzie Mountain wilderness area, and the Adirondack High Peaks in the distance.
9 miles from High Peaks Resort
---
Hiking When Muddy
Spring hiking in the Adirondacks is often a muddy adventure. As the snow melts in the higher elevations, trails can become soft and, at times, difficult to navigate. It's important to remember that if conditions are muddy, trails should be used with extra care (or avoided) so as not to increase erosion. If you encounter a muddy section of trail you should go through it, not around it as continued side-stepping widens the trail.