Our 5 Favorite Pet-Friendly Trails for Snowshoes and Hiking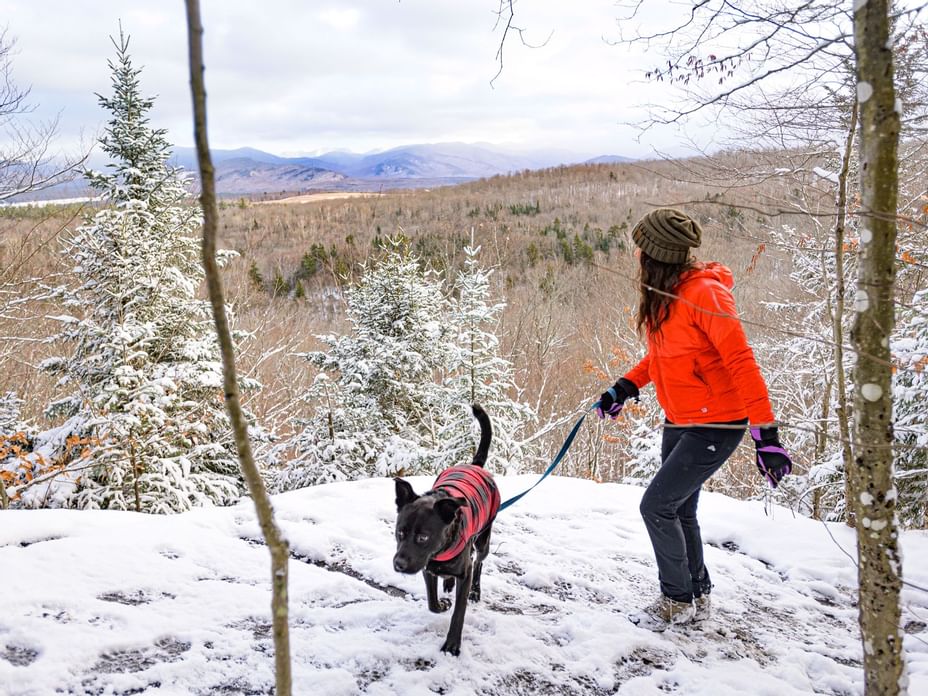 When you think of Lake Placid there are a few things that inevitably come to mind. The Olympics! The 46 High Peaks! The Alligator! The Snow! As a born and raised straphanger from New York City it's fair to say I was more than a little intimidated by the thought of exploring my new home when I moved here almost 20 years ago. Up until that point, the only map I'd ever read was a subway map! I'll admit, I've never fully embraced the wilderness lifestyle but I do like to get outside for some fresh air and some healthy activity, which is why Lake Placid is the perfect place for adventures of every level. If you are intimidated by the thought of exploring the trails for the first time or maybe you're looking for a great place to bring your dog, here are our favorite trails to explore by yourself or with your four-legged BFF.

Easy Adventures All Year Long
The Adirondacks are magnificent all year long but are especially magical in the winter when we include complimentary snowshoe rentals from our Guest Services desk (subject to availability). Want to know where to go to enjoy the most of your High Peaks Resort experience? These trails are perfect for all explorers from amateur to accomplished.
Paul Smiths VIC
Paul Smith's College VIC Trails is a network of interconnected trails open for year-round use about 22 miles from downtown Lake Placid. The trails crisscross 3,000 acres of mountains, marshes, forests, and steams. The Barnum Brook trail is a must-hike. See wetlands, walk along a brook, and enjoy scenic overlooks. Wildlife viewing opportunities abound. Glimpse snowshoe hares, Common Loons, Barred Owls, and more. In the winter, Paul Smiths VIC boasts 40k of groomed cross country ski and snowshoe trails and 10k of groomed skate skiing trails, and speaking from personal experience - this was the perfect spot for my first foray into winter recreation!
Henry's Woods
Owned and maintained by the Uihlein Foundation, Henry's Woods is a two-mile drive from High Peaks Resort and Lake House, making it a great place to go for a hike with kids, leashed dogs, or anyone who has limited hiking experience. The nature path offers a groomed hiking experience over a two-mile loop with a couple of trails that shoot off to offer scenic views before threading back into the main loop. Designed by experts, the well-planned trails through hardwood and mixed conifer-hardwood habitats feature switchbacks to traverse higher elevations on the Switchback and Rocky Knob trails, but beginners may want to stick to gradual elevation changes of the Plateau and Loop trails.
John Brown Farm State Historic Site
John Brown Farm State Historic Site is the former home and final resting place of famed abolitionist, John Brown. The scenic spot is open year-round for adventures. Enjoy three interconnected trails about three miles from Lake House. Explore the Potato Field Loop at 1.8 miles roundtrip, the Maple Grove Trail at 0.3 miles roundtrip, and the Ski Jump Trail that is just under a mile roundtrip, and is perfect for a mellow cross-country ski trip. For scenic views and classic Adirondack forests and landscapes without traveling too far from town, these trails are perfect for you and your dog. Leashes required.
Peninsula Trails
Just a few miles outside the village of Lake Placid, the trails, the intersecting loops of the Peninsula Trails are a great spot for hiking and snowshoeing with great views of Lake Placid itself. Changes in elevation are relatively gradual, making this a great one for new snowshoers and the Lake Shore trail, though rocky, offers some of the most breathtaking views of Lake Placid available to the public!
Heaven Hill
The Heaven Hill trails, also owned and maintained by the Uihlein Foundation, are as heavenly as they sound. This easy, pet-friendly trail system is perfect for anyone looking for a calming, peaceful walk or snowshoe in the woods with minimal effort. After dealing with a knee injury I found these trails the perfect way for me to get outside and enjoy a hike in nature without putting too much stress on my knee. If you have mobility issues or if you prefer endurance over elevation, this is a great wood to wander!