Planning a Last-Minute Getaway to Lake Placid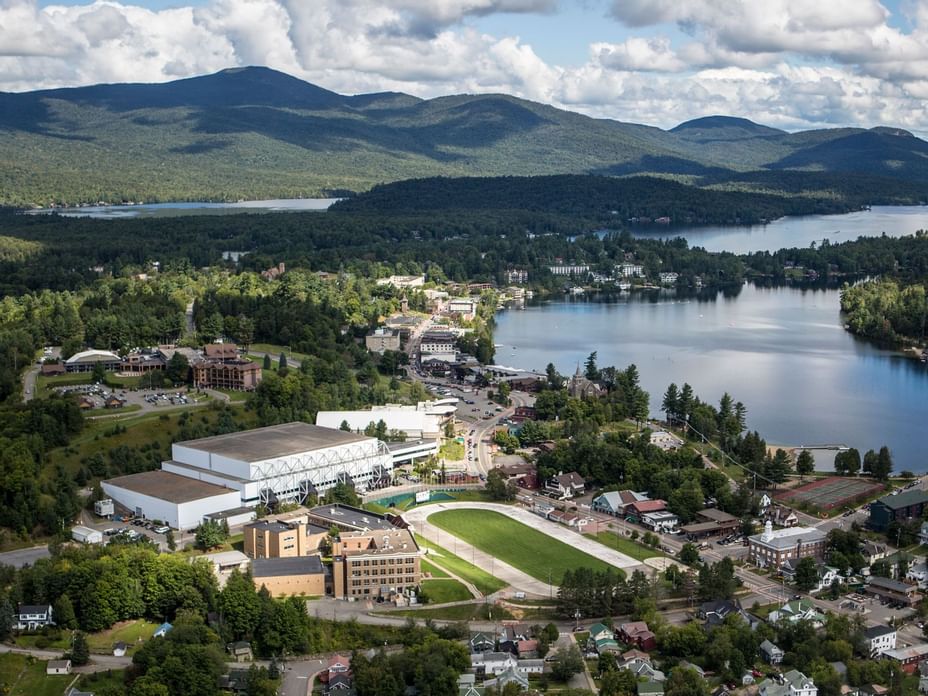 I have a confession to make. This summer snuck up on me.
I usually have a rough outline of activities I want to do, attractions I want to see. A walk or hike with Ed Kanze. A fishing trip with Terry Watson. A visit to my favorite museum to see their new exhibit. A trip up Whiteface Mountain to take in the view I never get tired of.
Not this year.
One minute there was snow on the ground and before I knew it, it was Ironman weekend 2021!
Sound familiar? Between navigating pandemic work, school, and extracurricular schedules, we need a vacation! One that is close enough to drive to but far enough to escape to. And I have good news for you. There is still time to plan and create memories this summer; in Lake Placid, we've kind of become experts at flexible vacation planning. After all, visitors have been vacationing in Lake Placid for nearly 200 years.
So where should you go and what should you see? I'll be taking advantage of all the last-minute opportunities for stress-free, easy vacation planning. Tag along with me as I introduce my southern boyfriend to the Adirondacks this summer.
At Your Resort
It doesn't get any better than having all the amenities you're looking for right at your fingertips. Enjoy all of the facilities and activities at High Peaks Resort and Lake House as well immediate access to charming Main Street, Lake Placid.
Waterfront Watercraft
No matter what time of year, exploring Mirror Lake is a favorite activity for guests of High Peaks Resort and Lake House. This summer enjoy complimentary access to High Peaks Resort watercraft, including stand-up paddleboards, pedal boats, and kayaks, glide along its mirrored surface in the morning or sail into the sunset in the evening,
Be Open Yoga at Lake House
Wake up with the sun on Wednesdays and Saturdays with Noelle Wood and Be Open Yoga. Themed classes are set to music and feature low, medium, or high vinyasa flow yoga. Classes are complimentary for guests through Labor Day weekend on Wednesdays at 9:00 AM and Saturdays at 7:30 AM.
Hiking
Hiking in the Adirondack Mountains is world-renowned. And for good reason!
Even if you're not a diehard mountain climber, the idea of becoming a 46er is romantic. If trailhead parking is a sign, many feel drawn to the wilderness this summer. The Adirondack Mountain Reserve has developed a reservation system for specific hikes. This will allow them to manage traffic and protect them from erosion. If you're looking for something more casual there are many great hikes that are perfect for you! I've got my sights set on becoming a Lake Placid 9er and Saranac Lake 6er. If big views and epic landscapes are up your alley, try your hand at the Adirondack Fire Tower Challenge. If you're looking to get out, enjoy some fresh air, and be active, there are hundreds of trails that are perfect for you. Take a trip to Moose Pond or Bloomingdale Bog or up Cobble Hill!
Olympic Venues
Visitors have flocked to the Adirondack woods and waters for centuries. They come to explore the wilderness and find themselves. They come to train, compete and test their limits. They come to capture our Olympic history and experience it in new and inventive ways.
Whiteface Mountain Veterans Memorial Highway
I look forward to driving up the Whiteface Mountain Veterans Memorial Highway every year. There is a certain kind of clarity you can get at the top with 360 views of the surrounding mountains. While the elevator is currently closed, the magnificent summit views are worth the 30-minute hike. Even better? Reservations for this time-honored tradition are not necessary!
Cliffside Coaster
If you have time for a little planning, the Cliffside Coaster has been on my must-do list since before it was built. If there was one thing I could change about the Olympic Bobsled experience it was that I couldn't enjoy the view. On the Cliffside Coaster, all that has changed. Take in the beauty of the Adirondack Mountains on your way up in your solo cart and discover our Olympic history. Then make your way down alongside the 1980 bobsled track as fast as you want to go. It has something for everyone!
Museums
I am so happy to be getting back to museums. As a proud nerd, I'm in my element when I'm learning something. So when I saw that "reservations" for my two favorite museums weren't a time limit I was over the moon. Spend as much time as you want! You'll need to if you want to explore every new exhibit and old favorite. I've got two of my favorites below, but there are many more ways to explore the nature and history of the Adirondack Mountains.
Wild Center
"Where the wilderness comes alive." A natural history museum dedicated to the Adirondack Preserve. Part adventure playground, part science museum, the Wild Center is perfect for outdoor enthusiasts of every level and any interest. Climb in a giant spider's web. Walk among the treetops. Explore nature like never before! The adventure doesn't stop at the front or back door - the indoor Wild Center exhibits have reopened to the public with few exceptions. I cannot wait to get back and explore!
The ADKX
While their huge campus features many outdoor exhibits, there is just as much to enjoy inside at The ADKX, making this my favorite place to visit for rainy and partly cloudy days. Some of my favorite displays were the log cabin of Anne LaBastille, an author and naturalist who championed the pioneering life for women, the museum's highlight of Mohawk and Abenaki cultures in the Adirondacks, and the Woods and Waters exhibit featuring the cabin of noted Adirondack Hermit John Rondeau.
Attractions and Recreation
For the last 200 years, the Adirondacks have been a source of inspiration and discovery, to gain a better understanding of the world around us and ourselves and our place in it. So when I think of attractions and recreation I think of ways I can find (or refind) myself in this place and my connection to nature.
Experience Outdoors
I've never been much of a thrill-seeker. No, that is kind. I am a scardey-cat. For most of my life, I've watched people take flight from the sidelines afraid to do the same. I'll be honest, it took every ounce of courage I have to complete the Experience Outdoors zipline course, but that's what the Adirondacks are for me and many others. A place to find out what I don't know about myself, to discover my mettle. The team at Experience Outdoors allowed me to safely challenge myself in ways I never thought possible.
If you've been playing catch up with all of your obligations for the past year, perhaps it's time to play catch up with yourself. There is still time for an escape to the Adirondacks! Check our availability online or call us to book your last-minute getaway.