Self-Discovery on the Ausable River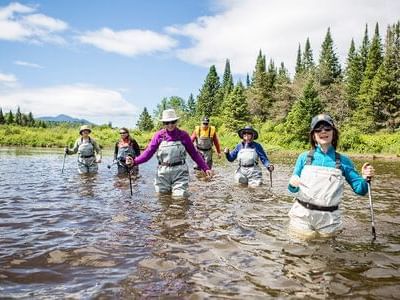 As I've shared my adventures over the past five years I like to think I've always been able to capture my authentic Adirondack experience, amazed and delighted by this place I've lived for 20 years in but never truly explored before. That changed last year, when, like so many, my life was put in a cocktail shaker and shaken up like one of Tony's signature cocktails at Dancing Bears Restaurant. Like so many, this has been the most profound year of my life; the end of a seven-year relationship, a promotion, the beginning of a new relationship, all during a once-in-a-generation pandemic, and nearly everyone I know has a similar story; even those who have been minimally affected have experienced enormous change. As I've begun to see inklings of normalcy I've felt this frenetic energy that I cannot quite describe, as though I were a moka pot bubbling away on the stove announcing "coffee is ready!"
I'm so ready, but where would I begin?
Well, believe it or not, I took my own advice. I did what I've suggested countless times before; I turned to the High Peaks Resort blog. And you know what? It's as good a resource as ever, whether you're visiting for the first time or the fortieth.
Guided Digital Disconnect
When was the last time you measured your success by something other than how many things you crossed off a list? It is so easy, too easy, to get bogged down in the last email, the latest text, to become blind to what is going on around us. If you're anything like me you may benefit from having someone walk you through it. Guides Helene Gibbens and Suzanne Weirich are certified by the Association of Nature and Forest Therapy, combining expertise in education, wellness, yoga, forest bathing, nature therapy, and riverwalking. After guided adventures in both riverwalking and forest bathing, Helene Gibbens of Adirondack Riverwalking & Forest Bathing is one of the first people I think of when I need some help reconnecting. Her careful and considerate nature is a welcome influence on my sometimes chaotic brain. and so is the gentle current of the Ausable River. It was time to go back.
Return to the River
With big blue skies, few clouds, it was not unlike my first trip into the Ausable. After suiting up in gaiters and waders we followed Helene through the brush and to the water. It never ceases to amaze me how easy it is to disconnect in the Adirondacks, how easy it is to put your phone in the car (you'll want to do that, your boots might be waterproof, your phone is not). A five-minute walk might have been a walk through a wardrobe to another world, no cars, no other people, just the gentle lapping of water against the banks of the river. It took a moment to adjust to the silence, to the peace and once we did we stepped in.
Instant Relaxation
Water is my happy place, whether it's floating aimlessly with a good book, sailing purposefully to the perfect fishing spot, I can spend hours enjoying the ebb and flow of moving water. I melted right into the water, wading thigh-deep, enjoying the gentle tug of the current against a raised foot. and as I dissolved into the water so too did my stress. For the first time in a long time, I feel like I was existing purely, the river eroding my stress from the past year so that I could just be. After a period of adjustment, Helene guided us through experiencing the lake in ways we may never have thought of before. Can you smell a river? Can you taste it without drinking? What does the water feel like? When you open your eyes what do you see?
I'm not a stranger to the wilderness. I've gone hiking, snowshoeing, and fishing and I never ask myself about what I'm seeing. I'm never present enough, I'm too busy climbing a hill or catching a fish. More numbers. More lists. More accomplishments. Helene guides you through mindfulness as she guides you through the water - intentionally but at your own speed.
A New Perspective
My boyfriend said it best when we walked back to our car, "it made me feel like I was seeing the river for the first time. There's so much going on under the water. I'll never look at a river the same way again." He's right. There are insect-crusted river rocks and smooth, bright labradorite. There are beavers, and ducks, and schools of tiny little fish. And that's true of all our lives when we take a moment to be present in them. There are family dinners and morning meetings, there is the cat walking along the head of your bed or the dog curled at your feet, there is coffee and croissants, there is sunshine and fresh air. There's so much more to life than fear and face masks and at least for me, it's time to experience it again, like the first time.
Explore nature through unique, guided sensory experiences like riverwalking, forest bathing, lake & forest walking, and winter forest bathing.