Art in the Adirondacks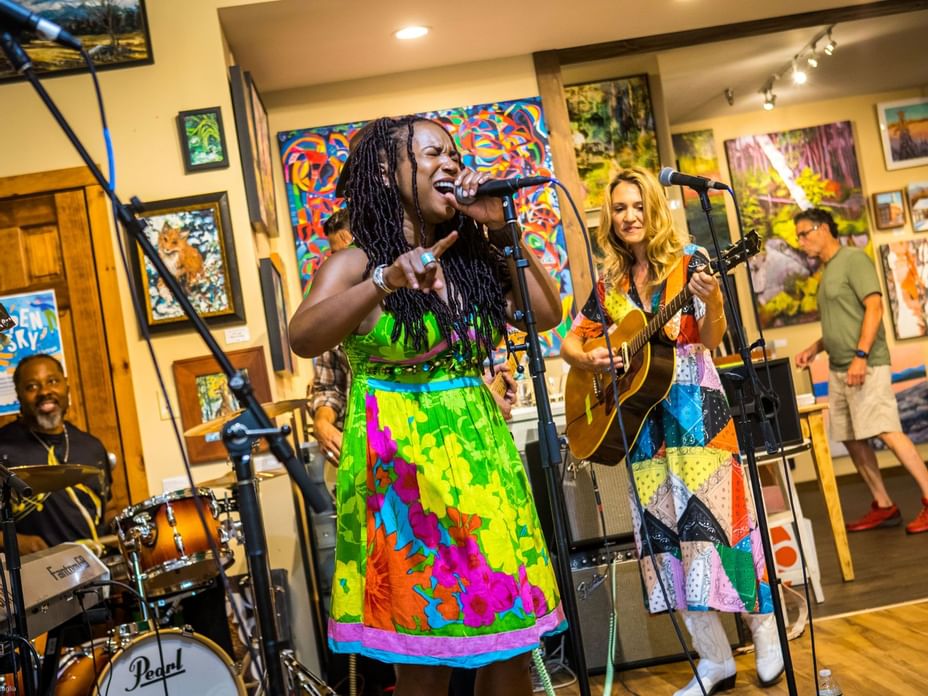 Photo Credit: Nancie Battaglia
I come from a family of artists, musicians, and entertainers. As a child, study and play were accompanied by a soundtrack of Traditional Irish music, my father's nightly meditations to wind down from a day of bricklaying in New York City. Summers were spent playing in the rings and beads of unmade chainmail or looking over the shoulder of a painter laying out a story in oils. High school was full of kindred spirits, visual artists, actors, dancers, musicians, and composers, the perfect accompaniment to my vocal self-expression.
Between the 2,000 miles of hiking trails, 3,000 lakes and ponds, and 30,000 miles of rivers and streams I knew that I was moving to a recreational paradise. It's little wonder it was selected to host two Olympic Winter Games and next year's Winter FISU World University Games but when I traded in the neon lights of New York City for a million twinkling stars I had no idea I'd find a robust community of visual and performing arts.

Photo Credit: Nancie Battaglia
Festivals + Events
August 11 - 14, 2022
Brought to you by Lake Placid Center for the Arts and back for the second year, the Open Sky Arts Festival is a celebration for music lovers of any age! Explore 4 days of music, food, and fun all on the outdoor stage on the lawn behind the Theatre Building. Featuring bluegrass, rock, pop, blues, and a special performance for families - there's something for everyone under the Open Sky! Featuring Emmylou Harris, the Spin Doctors, Paula Cole and Sophie B Hawkins, and more. High Peaks Resort guests get 20% off advance purchase tickets. Simply contact High Peaks Resort with your reservation details for a discount code that can be used on the Lake Placid Center for the Arts website.
August 15 - 20, 2022
Attracting artists from all over the country, the Adirondack Plein Air Festival features 50 artists painting Plein air, inviting you to take a look over their shoulders as they do (please allow the artists the space and focus to work while admiring from a distance). With scheduled events at the Paul Smiths VIC, in and around the Adirondacks, and "Paint the Town" in Saranac Lake, it's the perfect way to get outside to enjoy natural and manmade beauty. The event culminates with a juried show and sale of paintings fresh off the easel.
October 20 - 23, 2022
With award-winning short film screenings, cutting-edge feature films, educational seminars, mixers, receptions, tributes, directors, producers, and you—all in the mystic, magical village of Lake Placid, New York—the Lake Placid Film Festival is celebrating the community of film industry amateurs, professionals, and just plain movie fans alike.

Photo Credit: Lake Placid Center for the Arts
Visual Arts
The Adirondacks have inspired generations of sculptors, painters, and photographers whose work is available for purchase year-round. Stop in one of our local galleries and bring home a memory of your Adirondack experience.
There's always something marvelous happening at LPCA. With five studio spaces for hands-on workshop experience and a rotating gallery of seasonal exhibits, The Gallery @ LPCA is a comprehensive and immersive visual arts experience. For something less formal stop in Main Street's Gallery 46 for an everchanging display of local and regional artists.
Saranac Lake Artworks
Adirondack Artists Guild is a co-op gallery featuring and staffed by 14 regional artists on Main Street, Saranac Lake. It shares Main Street with Northwinds Fine Arts Gallery another cooperative gallery featuring regional artists. Step inside and you'll be greeted by an artist featuring their own work, allowing you the opportunity to speak to the artist about their work! For more information on regional artists and small studios, visit Saranac Lake Artworks.

Photo Credit: The Hillbenders
Performing Arts
A short drive from High Peaks Resort, Lake Placid Center for the Arts features live and broadcast performing arts. With past productions of hit Broadway shows like Bye-Bye Birdie and Into the Woods and performances by nationally touring groups like Cherish the Ladies, Lake Placid Center for the Arts has been a mainstay of live music and musical theater in the Adirondack Mountains. The upcoming Open Sky Arts Festival and performances by acclaimed Resistance Revival Chorus and Chicago's famed Second City are a strong reintroduction of music and art in the Adirondacks after a two-year hiatus. Want more live theater? The Pendragon Theatre in Saranac Lake and Westport's Depot Theatre have you covered.
Whether it's listening, laughing, or watching, there is something magical about experiencing art with other people. While it might be known for outdoor recreation and sport, Lake Placid truly has everything you need, body and soul. So on your next visit to the Adirondacks add a little art to your itinerary!