Unleash Your Inner Artist
Paint & Sip with The Peaks Paintbar in Lake Placid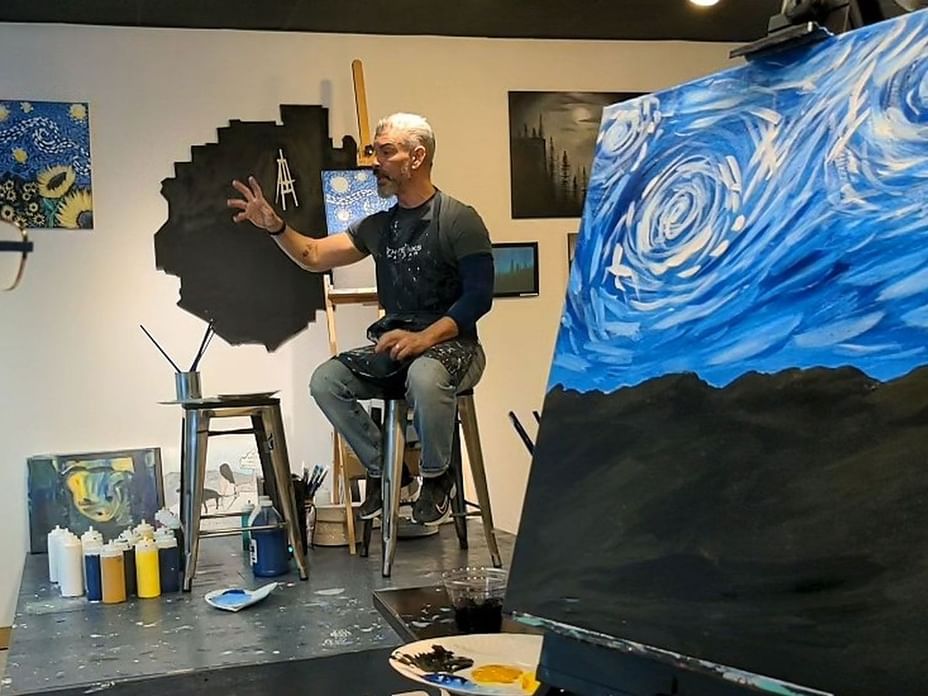 I've never been wildly creative.
That's not to say I don't have style, a certain something special, the ability to touch those around me in some way or another. I've been told I have a way with words and I can hold a note like Bruce Dickinson, but since I was a little girl I've dreamed of creating art with my hands, something I can look back on and be proud of.
My earliest memories of quality time with my mother, an artist and fashion designer, are of learning the fundamentals of human anatomy and the hemispheres of facial proportions. I'd get lost in the human equation; the human body is roughly seven heads tall and the space between your eyes is roughly the size of one eye. The formulas swirled around my head and I'd give up, overwhelmed and defeated by perfection. Later, when I was 11, I tried again. My neighbor and art instructor told me not to think about it, just move my arm and create. I can still see the cacophony of graffiti and modern art in drawing pastels, a frenetic burst of energy. It never felt good enough, perfection was a bolt of lightning I kept trying to catch in a bottle; utterly unattainable.
We've all been there.
We've all got something we've always wanted to do but never known where or how to start.
Let It Van Gogh
When I heard that a paint-and-sip experience would be opening in the very building I consider my second home, I was so excited. Even after finding my soul mate in a landscape and portrait artist, I have never been able to get past my pursuit of perfection. And it has been more important than ever to be able to share something my fiance loves so much.
I hoped this would be my way in.
The Peaks Paintbar offers themed paint-and-sip experiences. It's the ideal introduction to your artist side, allowing for a fun exploration in a structured environment. I have always had a soft spot for Vincent Van Gogh, so I knew my first Peaks Paintbar experience had to be Starry Night inspired. I couldn't help but be nervous. On top of everything else, all of my natural anxieties, I love The Starry Night. Even before I arrived my mouth was getting dry and I was starting to feel my creative impotence return. I keep my emotions, my fears, and hopes buried deep down where no one can see them, including myself. And now I was going to have to come face to face with them.
Ismael Rodriguez, co-owner and Master Art Instructor, pointed me and my fiance to a setup at the front of the class. I'm hard of hearing and I didn't want to miss a word. After taking my seat, the first thing I noticed was a paper plate with five colors; black, white, mustard, yellow, and blue - an antidote to decision paralysis. One brick down. After jumping up on stage we were introduced to Ismael and our objective. He was going to guide us on the journey of recreating The Starry Night using the same technique Van Gogh used, step by step. Step by step? Ok, I think I can do that, less intimidating. Another brick down.
This is where you might have a glass of wine if you're feeling a little blocked. Not me. I don't drink. But for those that do, The Peaks Paintbar featured a fully stocked bar and delicious eats. For those of us who don't drink, there is little that can stand in the way of Idina Manzel's mezzo-soprano. By the time she got to the chorus, I had "Let It Go" my anxiety all but forgotten. By the end of the evening, I'd done it. My office walls are covered in paintings by my fiance, this time I had something to display on his and I was already looking at the calendar for the next painting I wanted to try.
A Portrait of the Artist
Sometimes, when someone larger than life believes in you it rubs off.
For Ismael Rodriguez, it was Mrs. Gilmore, his second-grade teacher who was as straightforward as she was compassionate. After an afternoon of constructive chaos, Mrs. Gilmore looked him in the eyes and said with her signature decisiveness, "You are an artist." It's a moment Ismael can recall with brilliant clarity, it was the moment that creating art became an essential part of his identity.
Ismael's story is a tapestry of diverse passions, achievements, and experiences that have shaped his unique journey. Like many Bronx kids growing up in the shadow of Yankee Stadium, Ismael supplemented his academics with the greatest American pastimes. Baseball provided a welcome outlet for the unbounded energy that radiates from Ismael to this day, but as his days in middle school were coming to an end, Ismael has the decision to make; art or baseball.
He chose art and in 1980 joined the art program at the High School of Music and Art, known for fostering the creativity of creatives like Milton Glaser, Michael Kamen, Shari Lewis, and Slick Rick (and no less important, 20 years later, Anne at High Peaks Resort in the vocal program). He continued his education through college, earning his Bachelor of Fine Arts and Bachelor of Arts degrees. Following his education, he pursued a career in professional baseball, as an Ironman triathlon competitor and coach, and in artistic pursuits with exhibits over the years at a number of New York City cultural venues, and today his work can be found in the Negro League Baseball Museum in Kansas City, Missouri.
Today, Ismael credits his wife Rodelyn with being his rock, and the reason he is able to reach for the stars. When they decided to create The Peaks Paintbar it was Rodelyn measuring every inch of space, crafting the delicious food and drink menu, and creating the business plan behind the concept. Her faith and courage in Ismael and her unshakable determination in what they are creating are tangible. When the pandemic created a waiting list years long for builders and contractors, Rodelyn learned to measure twice and cut once. Her bold personality and sense of style touch every corner of the paintbar. Together they've created the kind of place where dreams really can come true for an evening.
While Lake Placid is known for the Olympic Winter Games and outdoor recreation, it is emerging as a center for creative arts and culture in the Adirondacks. The Peaks Paintbar is the perfect destination for those who want to turn their vacation into a unique artistic experience. By combining the joys of painting with the pleasures of sipping a drink in a truly spectacular setting, Ismael and Rodelyn have created a relaxed and inspiring atmosphere that is perfect for unleashing your inner artist. Whether you're an experienced painter or a complete novice, the talented instructors at The Peaks Paintbar will guide you through the process of creating a one-of-a-kind masterpiece. And who knows, you might even surprise yourself with what you can create! So, why settle for a typical vacation when you can try something new and exciting? Book your spot at The Peaks Paintbar today and let your creativity soar! The Starry Night sky is the limit!