A Scenic Drive to Remember
High Peaks Resort and Topnotch Resort Unite for a Breathtaking Journey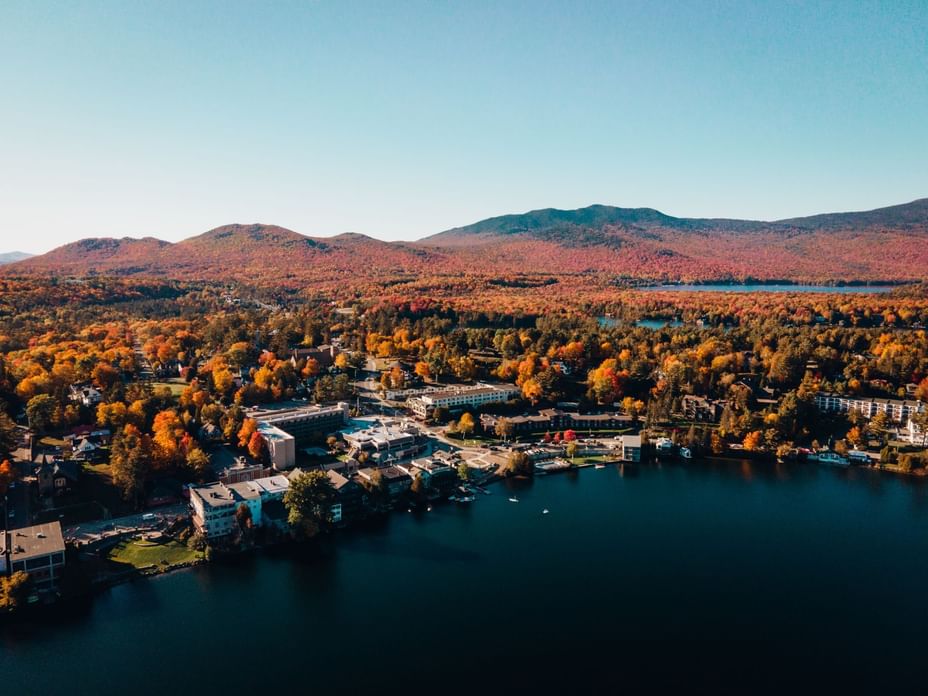 High Peaks Resort: Where Nature Embraces Luxury
Located in the awe-inspiring Adirondack Mountains, High Peaks Resort offers an exquisite blend of upscale amenities and nature's tranquility. The resort sits like a gem on the shores of Mirror Lake, where the reflection of autumn's splendor mirrors the vivid colors above. Imagine waking up to the sight of maple leaves drifting gently in the breeze and the sweet scent of fall filling the air.
Activities to Embrace Fall
Hike into the wilderness and immerse yourself in a symphony of colors as you explore the nearby Adirondack High Peaks.
Take a relaxing boat ride on Mirror Lake to witness nature's masterpiece from a different perspective.
Cozy up by the outdoor fire pits with a cup of hot cocoa and savor the crisp evening air.
A Scenic Drive to Remember
Between these two paradises lies a picturesque journey that will stay with you forever. As you embark on the scenic drive from High Peaks Resort to Topnotch Resort, you'll be greeted by awe-inspiring landscapes and charming towns along the way.
Route Highlights
Experience the Rustic Charm of Adirondack Style at Dartbrook Rustic Goods: Discover a treasure trove of handcrafted rustic furniture and decor that beautifully blend with nature's splendor. Immerse yourself in the timeless allure of the Adirondacks and elevate your home with rustic elegance from Dartbrook Rustic Goods.
Witness Nature's Grandeur from the Overlook Viewing Platform at Marcy Field: Marvel at the breathtaking panorama of the Adirondack High Peaks, where a symphony of fall colors unfolds before your eyes. Embrace the serenity of the wilderness and capture unforgettable moments atop this stunning vantage point.
Savor the Sweetness of Adirondack Traditions at Noon Mark Diner: Indulge in a slice of homemade pie, lovingly crafted with the finest local ingredients, and immerse yourself in the nostalgia of classic American diner culture. Treat your taste buds to a delectable journey, where every bite is a delightful reminder of cherished moments spent in the heart of the Adirondacks.
Experience Fall's Spectacular Splendor with the Essex, NY, to Charlotte, VT Ferry: Cruise along Lake Champlain's picturesque shores, surrounded by a kaleidoscope of vibrant autumn hues, and savor the beauty of the season in all its glory. Don't forget to check the ferry schedule beforehand to ensure a seamless journey, and let the breathtaking fall foliage unfold before your eyes during this memorable crossing.
Embrace the Magic of Childhood at the Vermont Teddy Bear Factory: Step into a world of fluffy wonder as you witness skilled artisans bring adorable teddy bears to life, each one uniquely crafted with love and care. Create cherished memories and take home a huggable friend that will warm your heart for years to come.
Unveil the Treasures of Art and History at Shelburne Museum: Immerse yourself in a captivating journey through 39 distinct exhibition buildings, showcasing an extraordinary collection of American folk art, quilts, historic structures, and much more. Wander through this enchanting wonderland of creativity and heritage, where every corner reveals a new and fascinating tale from America's past.
Indulge in a Whimsical Ice Cream Adventure at Ben & Jerry's Factory Tour: Discover the magic behind everyone's favorite ice cream as you witness the delightful process of churning creamy goodness and savor exclusive flavors unique to the factory. Experience the joy of Vermont's sweetest success story and treat yourself to a scoop of pure happiness!
Topnotch Resort: An Idyllic Haven in the Green Mountains
Nestled amidst Vermont's captivating Green Mountains, Topnotch Resort invites you to experience autumn's charm in true New England style. The resort's refined elegance blends harmoniously with the surrounding natural beauty, making it a perfect destination for a fall foliage retreat.
Activities to Embrace Fall
Explore the scenic Stowe Recreation Path, a 5.5-mile trail boasting stunning fall foliage views and opportunities for biking and walking.
Indulge in a rejuvenating spa session, featuring treatments inspired by the season's bounty, such as pumpkin-infused facials and cider-scented massages.
Savor farm-to-table delights at the resort's fine dining restaurant, where seasonal ingredients add an exquisite touch to each dish.
Embrace Nature's Boldest Season at High Peaks Resort and Topnotch Resort
Embark on a journey that celebrates the glorious beauty of fall foliage while indulging in the comfort and elegance these resorts offer. From breathtaking views to enchanting destinations, this fall foliage escape promises an authentic experience of nature's masterpiece. So, pack your bags, hit the road, and allow yourself to be swept away by the harmonious symphony of fall colors between High Peaks and Topnotch Resorts. Your unforgettable autumn adventure awaits!