Adirondack Riverwalking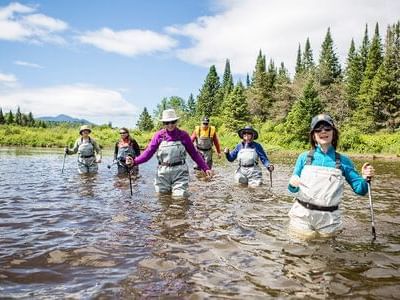 Adirondack Riverwalking & Forest Bathing is an outdoor experience that combines the benefits of nature therapy with the tranquility of walking in a forest. Participants of the experience will get to take a walk through the forest while being guided by an experienced guide, who will lead them through the forest and teach them about the local flora and fauna, and the history of the region.
One of the main benefits of Adirondack RIverwalking & Forest Bathing is the opportunity to connect with nature and disconnect from the stressors of daily life. The activity is designed to be a meditative and calming experience, with the natural environment and the fresh air helping to reduce stress and promote relaxation. Additionally, the act of walking in nature has been shown to have a positive impact on overall health and well-being, including reducing the risk of chronic diseases and improving mental health.
Adirondack Riverwalking & Forest Bathing is suitable for people of all ages and fitness levels and can be tailored to the individual needs of the participants. It's a great way to spend a day with family and friends, and also can be a great team-building activity for organizations. Whether you're looking to relax and unwind, or to explore the beauty of the Adirondack region, this outdoor experience is a great way to do it.
For more information on the riverwalking experience read our blog "Self-Discovery on the Ausable River".