Wild Center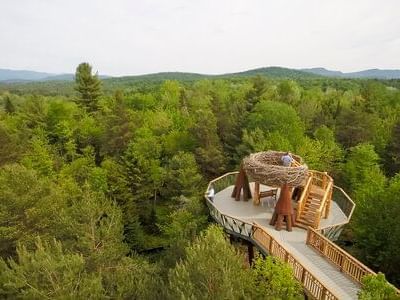 The Wild Center, also known as the Adirondack Museum of the Natural World, is a nature center located in Tupper Lake, New York. The center is focused on educating visitors about the natural history and ecology of the Adirondack Mountains and the surrounding region. The center features a variety of exhibits, including live animals, interactive displays, and outdoor trails, as well as educational programs and special events.
One of the main attractions at the Wild Center is the Wild Walk, an elevated trail that takes visitors through the treetops of the Adirondack forest. The Wild Walk includes several unique features, such as a spider's web, a beaver dam, and a birds' nest, that allow visitors to experience the forest from a different perspective. Additionally, the center has a variety of live animals, including otters, owls, and eagles, that can be viewed in their natural habitats.
The Wild Center also offers a variety of educational programs for visitors of all ages, including guided tours, workshops, and lectures. These programs are led by experts in the fields of natural history and ecology and are designed to deepen visitors' understanding and appreciation of the natural world. The center also hosts special events throughout the year, such as birding walks and nature photography workshops, that allow visitors to engage with nature in new and exciting ways.

Located 29.1 miles from High Peaks Resort.
45 Museum Drive 12986 Tupper Lake USA