Where Canine Comfort Meets Heartfelt Hospitality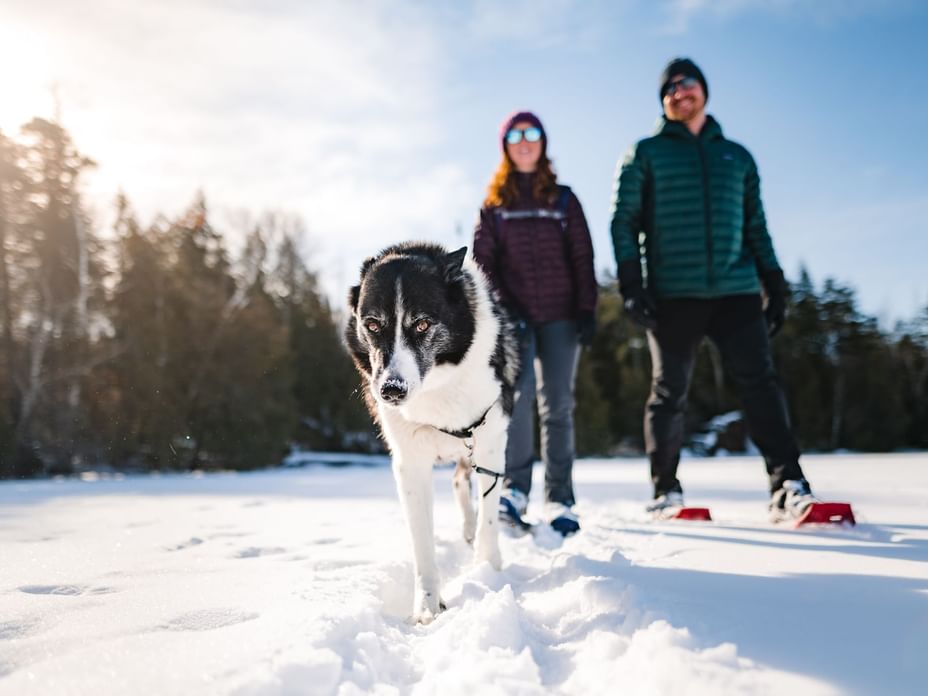 Whether it's our guests' dogs or one of our own, at High Peaks Resort, being dog-friendly isn't just a gesture—it's a way of life. From pampering our four-legged guests with their own cozy beds and tailored amenities to contributing a portion of your pet charge to the Tri-Lakes Humane Society, ensuring that our furry companions experience exceptional hospitality is at the core of our mission.
Meet Tango, Chief Morale Officer at High Peaks Resort
Hey, I'm Tango, and let me tell you, my three years on this planet have been quite the ride! I've clocked in some serious miles and bounced around a few homes, including a pit stop at the Tri-Lakes Humane Society. But you know what they say—good things come to those who wait, and boy, did I hit the jackpot with my forever family!
So here's the scoop: my new dad started showing up at the Humane Society for our regular walks. And let me tell you, those walks quickly became the highlight of my day. Little did I know that these walks were paving the way for me to become part of their pack. Fast forward a bit, and boom—I'm living with my new mom and dad, along with my ten little sisters; one cool cat, and nine clucking hens. But let's be real, my humans are where it's at.
Life with them is a blast. We're a team, always up to something fun. Whether it's heading outdoors for epic adventures or cruising around in a car, count me in! I might take a moment to warm up to you, but once I do, get ready for some top-tier sweetness. I'm a pro at trading my good behavior for tasty treats, and don't even get me started on fetch—I'm a champ. Sure, I'm working on my listening skills, but hey, who's perfect anyway?
And guess what? I've got a pretty important gig too! They call me the "Chief Morale Officer" at High Peaks Resort. My mom, Kelly, is a Sales Manager there, and I get to tag along to work. Let me tell you, being the CMO is no joke. My schedule is packed with important meetings (and treats, of course). Keeping everyone's spirits high is a big responsibility, but someone's gotta do it, right and helping the team here make your vacation and event dreams come true is totally worth it!
Explore the Top Dog-Friendly Activities
Tucked away in the heart of the breathtaking Adirondack Mountains, we're your ultimate pet-friendly haven - right on Main Street. Get ready for a trip filled with unforgettable moments and exciting dog-friendly escapades!
Swim, Paddle, or Stroll Around Mirror Lake
If you want a great day out with your puppy pal, look no further than Mirror Lake! This beautiful water body is located in the center of town and offers a popular 2.7-mile sidewalk loop around the entire lake. The southwest shore features a popular dog-friendly beach where pups and people can swim and play together. And, because of its convenient location on Main Street, there are a number of pet-friendly restaurants with outdoor decks within walking distance. If you prefer to be on the water, this motorless lake is perfect for paddling and rowing. When you stay at Lake House or High Peaks Resort, you have free access to the array of resort amenities including outdoor gear rentals like rowboats, paddleboats, and stand-up paddleboards!
Visit John Brown's Farm State Historic Site
Going on a nice walk with your dog is great, but going on a walk both close to town and worlds away with unique historical significance? That is what lands John Brown's Farm as our top pick for places to bring your puppy off our property. An easy five-minute drive from High Peaks Resort, the homestead and resting place of John Brown is both beautiful and reflective. While dogs are respectfully requested to remain outside the home and gravesite, the self-guided displays telling the story of John Brown's life and the hiking/nature/cross-country ski trail make this a unique dog-friendly spot year-round.
Conquer the Summit of Whiteface Mountain
The Veterans Memorial Highway at Whiteface Mountain is both picturesque and dog-friendly. Towards the bottom, you will pass through a historic toll house built in 1934 and begin winding your way up the 5-mile road. There are numerous scenic overlooks along the road that you can stop and get out to enjoy the view. As you come to the end of the road, you will arrive at a castle built in 1929. Once you park, head to the top of the fifth-highest point in NY! While dogs are asked to refrain from using the elevator that will bring you straight up the center of the mountain, they are very welcome to scale the Stairway Ridge Trail with their owners!
Venture Into the Wilderness
Venture Into the Wilderness
With over 2,000 dog-friendly hiking trails to choose from, the Adirondacks are a paradise for outdoor enthusiasts. Whether you're seeking a leisurely stroll or a more challenging hike, there's something for everyone. Don't miss the Bloomingdale Bog Trail and Paul Smith's VIC, or Owen, Copperas, and Winch Ponds, three ponds grouped together in the Sentinel Wilderness for a refreshing dip after your adventure.
Indulge in a Sweet Treat at Emma's Lake Placid Creamery
As summer approaches, so does the craving for ice cream! After your adventures, make a pit stop at Emma's Lake Placid Creamery and indulge in a creamy delight. And guess what? Your four-legged companion won't be left out—treat them to a special doggie dish topped with a crunchy biscuit for a delightful shared treat!
A Pawesome Announcement
Starting September 1, we're thrilled to share that a portion of the dog fee will be dedicated to supporting the Tri-Lakes Humane Society. Your dog-friendly getaway will now make a positive impact on the lives of animals in need. We believe in creating meaningful experiences for both our guests and the local community, and this initiative exemplifies our commitment to that cause.