Après Winter in the Adirondacks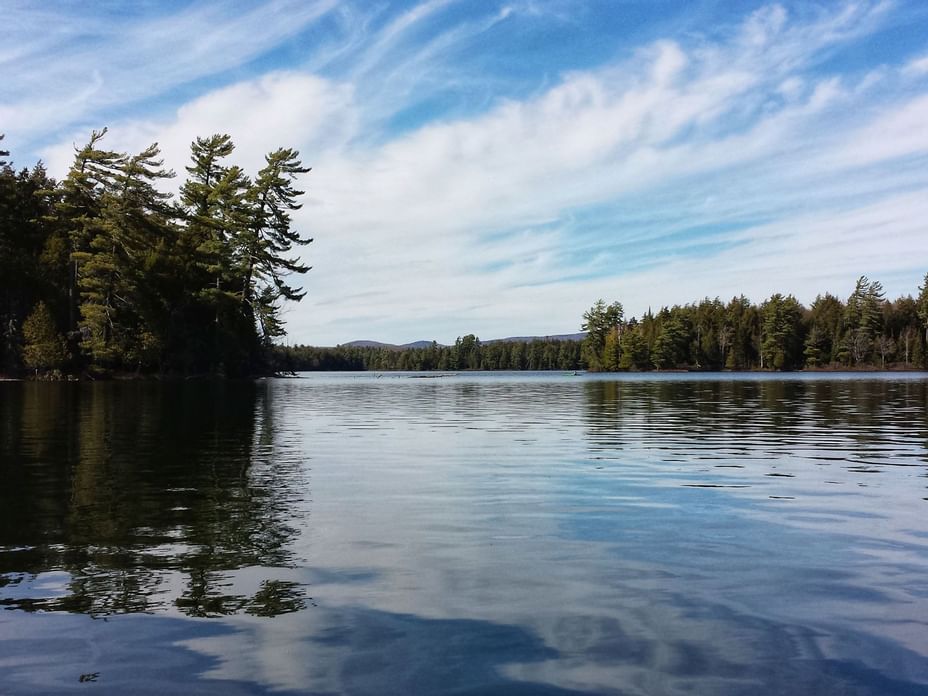 Get ready to witness the Adirondack Mountains come alive as winter draws to a close and the ice begins to melt away. Although Lake Placid is renowned as a go-to vacation spot for both summer and winter escapades, it's also a hidden gem during the off-peak season, offering a multitude of exciting adventures. Wondering why? Keep reading! Discover the reasons that make Lake Placid the perfect destination for your next off-season adventure. Don't miss out on the fun!

Photo © Anne Reilly
Explore
Just because the Adirondacks aren't covered in a rich blanket of green foliage doesn't mean there isn't a lot to see; in fact, it's just the opposite! The Adirondack Mountains are full of life and it's never more compelling than when our flora and fauna are waking up après winter.
Spring Skiing at Whiteface Mountain
Spring skiing in April at Whiteface Mountain is the perfect way to enjoy the final days of the ski season. With its high elevation and impressive snowmaking capabilities, Whiteface Mountain typically has a longer season than many other ski resorts. In April, skiers can enjoy sunny days and mild temperatures while still taking advantage of the resort's well-groomed slopes and challenging terrain.
Hire an Adirondack Fishing Guide
Spring fishing in the Adirondack Mountains' High Peaks Region is an unforgettable adventure. To make the most of the trip, hire an Adirondack fishing guide - local experts who know the area's waterways and can help you find the best fishing spots while sharing their knowledge of the region's unique ecology.
Ed Kanze, Adirondack Naturalist Company
Maybe it's just me, but there is something awe-inspiring about the Adirondack Mountains before the leaves return, a greater understanding of the scale and a clearer look at the peaks and valleys of the Adirondack landscape. From the very large to the very small, that clear picture follows you as you explore Adirondack forest trails, and hiring an experienced naturalist and Adirondack Guide like Ed Kanze gives you the insight you won't get anywhere else.
Paul Smiths Visitors Interpretive Center
The 3,0000-acre Paul Smiths VIC is a favorite among Adirondack adventurers, both local and visiting. Winding through forest and marshland, passing by ponds, brooks, and bogs, the 25 miles of woodland trails offers unparalleled opportunities to enjoy nature all year long.

Photo © Just Bead It
Experience
Lake Placid may be the quintessential spot for outdoor sports and recreation, but for those of us who would enjoy something a little less free-range, Lake Placid is still the place to be.
The Peaks Paintbar
The Peaks Paintbar in Lake Placid, NY is the perfect place to unleash your inner artist while enjoying a fun and social experience. With a beautiful setting surrounded by the Adirondack Mountains, this paint-and-sip destination offers an array of creative classes for all skill levels. Whether you're a beginner or an experienced painter, the friendly and talented instructors will guide you through the process of creating your own masterpiece while you sip on a glass of wine or beer. It's the perfect activity for a night out with friends, a date, or even a solo adventure. Come and join the fun at The Peaks Paintbar and take home a unique and personal work of art that you'll be proud to display in your home.
The Climbery at High Peaks Cyclery
The Adirondacks offers some of the Northeast's most unique and challenging outdoor rock climbing, but if you are new to the sport or prefer a more controlled rock-climbing environment, it's a sport with an indoor option! Whether it be your first rock climbing experience or your hundredth, The Climbery at High Peaks Cyclery offers routes perfect for beginners, and more experienced climbers are welcome to hone their skills by setting their own routes to practice!
Jewelry Making at Just Bead It
I once saw a post on social media "there are people who craft, and then there are people who collect crafting supplies" and oh man did that speak to me. I'm not crafty, I want to be crafty, but in reality, I have crafty urges. And they tend to involve a large investment and are over before I see any kind of return. Which is why I love Just Bead It. You don't have to buy all the things that you'll never use, instead, spend a couple of hours inside with access to all the beads, and shells, and stones you want and pay for what you use.
Adirondack Aviation Academy
Take sightseeing to new heights with Adirondack Aviation Academy. Scenic sky tours give you an unobstructed view of the mountains as they are waking up. Adirondack Aviation Academy offers three scenic flights, Tour the Towns is a 20-minute scenic flight with views of Lake Placid and Saranac Lake, Higher than the Peaks, a 45-minute flight soaring above the 46 Adirondack High Peaks on a hiker's dream ride, or a 75-minute Burlington and Back flight which takes you to Lake Champlain.
And best part? Adventuring in the Adirondacks in early spring lets you enjoy incredible access to the Adirondack Mountains and Lake Placid without the crowds. Take advantage of Lake Placid's spring slowdown. Not only are we seeing the best rates of the year, but the quiet atmosphere gives you the easiest access to Adirondack adventures, both indoors and out.
Header Image © Anne Reilly