Lake Placid & Adirondacks Activities Guide
Fall Edition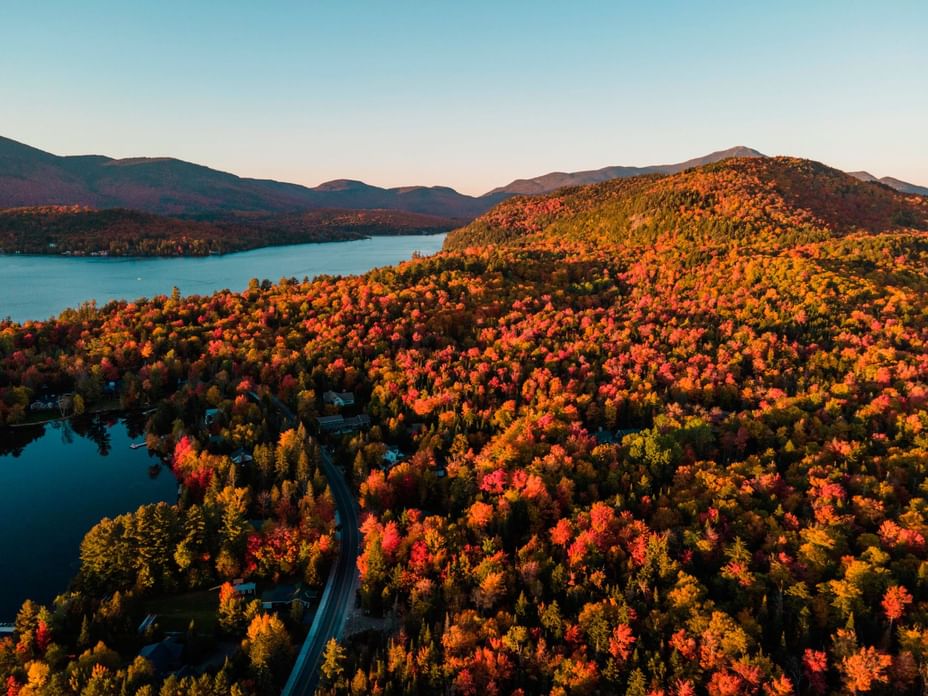 With 6 million acres of wilderness, the Adirondack Mountains hold unlimited potential for adventure and with so many possibilities it can be hard to decide on all the things to do this spring. To help you plan your experience we asked Ed Kanze, Naturalist and Adirondack Guide, what's special about spring in the Adirondacks. To leverage Ed's advice, see our list of suggestions below for each month this spring. Enjoy your fun in the Lake Placid region and don't forget to stop by and see us downtown.

September
Enjoy the Adirondack Fall Landscape
Fall color rises to near zenith this month. Red maple color peaks. The bright orange leaves of sugar maples in early October get more press, but the flaming crimson of red maples in September are every bit as gorgeous. Native asters and goldenrods bloom at this time of year. Neither causes hayfever, which is the fault of a drab exotic plant called ragweed, found in lesser quantity here than anywhere in the state.
Resort Suggestions
Experience the breathtaking beauty of the fall foliage season like never before with Adirondack Aviation Academy! This unforgettable scenic flight offers an aerial adventure that will leave you speechless. Soar high above the vibrant tapestry of crimson, gold, and amber leaves as you embrace nature's artistic masterpiece. Feel the rush of excitement as your pilot navigates you through the picturesque Adirondack Mountains, providing a bird's-eye view of towering mountains, pristine lakes, and charming villages. Don't miss this once-in-a-lifetime opportunity to capture mesmerizing photos and create cherished memories. Reserve your seat now and elevate your fall experience to new heights!
Unleash your inner artist amidst the breathtaking fall foliage with The Peaks Paintbar! When you stay at High Peaks Resort, indulge in a one-of-a-kind paint-and-sip experience that blends creativity and nature's vibrant hues. The talented instructor at The Peaks Paintbar will guide you step-by-step through painting a stunning autumn landscape, inspired by the incomparable Adirondack Mountains. Sip on your favorite beverage, mingle with fellow guests, and let the vibrant colors of the season flow from your paintbrush. Whether you're an experienced artist or a beginner, this unique encounter promises to leave you with a masterpiece and cherished memories. So, elevate your stay at High Peaks Resort with The Peaks Paintbar and take home a tangible memory of the awe-inspiring fall season! Our Paint, Sip, & Stay package is the perfect way to enjoy Lake Placid's paint-and-sip experience!
Once it starts, spectacular foliage is almost everywhere you look. Pick a route and go on an adventure; you never know what spectacular sight is around the next turn. Adirondack Wayfinder is a fantastic resource for pre-plotted road trips.
Explore the Last Traces of Summer
Birds migrate in droves. This brings exciting opportunities for birders and casual bird lovers. Southbound hawks stream across the skies on sunny days. Watch for migrating monarch butterflies! They look like fluttering pieces of stained glass. September is prime breeding season for moose. Be careful when you're driving, especially at night. And if you're in the woods, look for moose in wet places.
Resort Suggestions
Discover the magic of fall foliage from a whole new perspective at High Peaks Resort! Glide across the mirror-like surface of Mirror Lake on our watercraft and immerse yourself in nature's awe-inspiring masterpiece. As the leaves paint the landscape in stunning hues, you'll experience tranquility and serenity like never before. Whether you choose to paddle a kayak, or a pedalboat, or enjoy a leisurely cruise on a stand-up paddleboard, the breathtaking views of the surrounding Adirondack Mountains will leave you speechless. Embrace the beauty, embrace the serenity – embrace the magic of Mirror Lake!
Experience the untamed beauty of the Adirondacks this fall foliage season! Discover the wonders of the Paul Smiths VIC, your gateway to hiking adventures and encounters with Adirondack wildlife. Trek through lush forests, around serene ponds, and over picturesque boardwalks as you soak in the vibrant autumn colors. Keep your eyes peeled for elusive creatures like deer, foxes, and even majestic bald eagles soaring above. And don't miss the enchanting Butterfly House, where you can witness the delicate dance of monarch butterflies amidst the fall foliage. Embrace the magic of nature's canvas, and with exclusive access as a High Peaks Resort guest, your Adirondack adventure awaits. Get ready to forge unforgettable memories and experience the wonders of the wild this fall!
Spectacular Lake Placid Hiking
The thermometer can't make up its mind. Cool and warm days alternate. Waters begin to cool rapidly, so this is the last full month of congenial paddling. This is perhaps the finest time to climb an Adirondack high peak or any good-sized lesser mountain. As you ascend in elevation, you move forward through the calendar and find yourself at the height of autumn. Humidity is often low at this time of year, making for crisp views.
Resort Suggestions
This fall foliage season, elevate your Lake Placid experience with the ultimate hiking challenge - the Lake Placid 9er! Stay at High Peaks Resort and conquer one of these local peaks that offer breathtaking panoramic views of the colorful Adirondack foliage. Whether you're a seasoned hiker or just beginning your trekking journey, the Lake Placid 9er has something for everyone. Explore rugged terrains, and meandering trails, and immerse yourself in nature's grandeur. Lace-up your boots, grab your camera, and embark on an unforgettable adventure with the Lake Placid 9er challenge. Unleash your inner trailblazer and make this fall season one to remember!

October
Leaf Peeping & Harvesting
Early October brings Adirondack fall color to its so-called peak. Fall color may well be prettier here than anywhere in the Lower 48. Cold nights and warm sunny days make for vibrant hues. And our mix of flaming hardwoods and deep green pine, spruce, and fir make for dazzling contrast. Autumn color in the Adirondacks represents one of the great wonders of the natural world.
Resort Suggestions
This fall, soar to new heights and witness the jaw-dropping beauty of the Adirondack foliage like never before. Take in breathtaking panoramic views from the Skyline Gondola as you gently glide above the vibrant treetops, and then unleash your inner thrill-seeker on the Skyflyer Zipline, zipping through the kaleidoscope of colors below. But the adventure doesn't stop there! At the Olympic Jumping Complex, marvel at the stunning foliage vistas from the very same platforms that launched Olympic dreams. With the crisp autumn air and nature's vibrant canvas, this is a fall experience you won't want to miss.
Experience fall foliage like never before as you ride the longest coaster in North America - the Cliffside Coaster at Mt. VanHoevenberg! Follow in the footsteps of Olympic history as this thrilling coaster takes you on a journey through time. You'll be in the driver's seat of the 1980 Olympic Sliding Track, where you control the speed through sharp corners, cliffside banks, and long winding tracks. Embrace the breathtaking views of Adirondack foliage as you race through the vibrant colors and immerse yourself in the inspiring Olympic history of Lake Placid Sliding. Get ready for an unforgettable adventure that will leave you with memories to cherish forever.
Birdwatching
Believe it or not, bird watching may well rank as America's most popular pastime. More people watch birds than play baseball, football, hockey, basketball, golf, and tennis combined. Crisp fall weather and a manageable number of birds make this an ideal time to explore wild places with a guide and get in on the fun.
Resort Suggestions
Nestled amidst the breathtaking landscapes of the Adirondack Mountains, bird watching here offers a unique and diverse experience. Witness the grandeur of majestic raptors soaring high above the rugged peaks, marvel at the plumage of woodland songbirds, and delight in the graceful waterfowl that call the pristine lakes and ponds their home. Bird watching in the Adirondacks allows you to connect with nature on a profound level, immersing yourself in the sights and sounds of the wild. With over 200 bird species, including rare and migratory visitors, every outing promises a new and thrilling encounter. Whether you're a seasoned birder or just starting, the Adirondacks offer a captivating sanctuary to hone your skills and ignite a lifelong passion for observing these fascinating winged creatures.
Be Safe When Exploring
Paddling and boating conditions are typically congenial early in the month. Fishing is good, too. But be safe! Water temperatures are falling steadily, so it's vital that those who venture out in small craft wear personal flotation devices at all times. Hiking conditions are often fabulous. Gazing down from a rocky summit into a sea of fall color can be thrilling. Hikers should be advised, though, that winter can arrive out of the blue on high slopes and summits. A dangerous blizzard can be life-threatening to the ill-prepared, so hikers are advised to carry hats, mittens, warm clothing, and waterproof matches, and to turn around if conditions deteriorate. Enjoy the woods safely.
Resort Suggestions
In October, fly-fishing enthusiasts flock to the Ausable River near Lake Placid, NY, to experience a fishing paradise like no other. The crisp autumn air, combined with the stunning backdrop of colorful foliage, creates an idyllic setting for a fishing adventure. As the leaves gently fall, the river's water level drops, revealing prime fishing spots that beckon anglers to cast their lines. In this pristine river, wild brown, rainbow, and brook trout abound, presenting a thrilling challenge for seasoned anglers and an exciting opportunity for novices. The tranquility of the surroundings and the joy of connecting with nature enhances the fly-fishing experience, making it a beloved seasonal tradition for many. To make the most of their fly-fishing adventure on the Ausable River near Lake Placid, NY in October, many anglers opt to hire a fishing guide from The Hungry Trout Fly Shop. With their expertise and in-depth knowledge of the area's waters, these skilled guides offer a wealth of experience and insights, ensuring an unforgettable and successful fishing trip.
Embrace the serene beauty of the Adirondacks this October with a truly unique experience - Adirondack Riverwalking & Forest Bathing. Immerse yourself in the tranquil embrace of nature as you embark on a guided journey along pristine riverbanks and through ancient forests, breathe in the crisp, invigorating air as you're surrounded by the vibrant colors of fall. Led by experienced guides, this mindful adventure combines the therapeutic practice of forest bathing with the thrill of riverwalking, creating a soul-stirring experience that rejuvenates your senses and renews your spirit. Connect with the natural world on a deeper level, away from the hustle and bustle, and discover the magic that the Adirondacks offer during this captivating season. So, slow down, take a step back, and allow the healing power of nature to envelop you in an unforgettable and transformative experience.
November
Wildlife Watching
November can be a good month for wildlife watching. Leaves are down, and forests once impenetrable to the eye begin to reveal their secrets. Whitetail deer are breeding. Big bucks are at their most majestic, with massive necks (they've been working out all autumn) and grand racks of antlers. Because hunters are in the woods, hikers need to be wearing. Deer are largely or entirely colorblind, but hunters for the most part are not. Wear bright colors.
Resort Suggestions
November is the perfect time to visit Paul Smiths VIC, nestled in the heart of the Adirondacks, as it offers a unique and tranquil experience after the vibrant fall foliage season but before the winter snow blankets the landscape. Embrace the serenity of the wilderness as you explore the uncrowded trails, adorned with the rich, earthy colors of late autumn. Witness the wildlife preparing for the colder months ahead, from foraging squirrels to migratory birds passing through. The crisp air invigorates your senses, and the peaceful atmosphere allows for uninterrupted reflection and connection with nature. Whether you're seeking solitude amidst nature's beauty or simply looking to escape the bustling world, Paul Smiths VIC in November promises a peaceful retreat and a chance to savor the changing seasons in this captivating wilderness setting. Please keep in mind, however, that the lodge is closed in November so the only bathrooms will be the privies you find on the trails.
Great Opportunities for Aspiring Naturalists
Hiking conditions are usually excellent in lower areas. Snow and ice may already rule the high country. With fewer leaves on the trees, wildflowers withered, and a greatly reduced number of birds around, this is a fine time for aspiring naturalists to start learning. The candidates are fewer, so progress is more easily made. Early snows often make for excellent tracking.
Resort Suggestions
For an unforgettable November adventure in the Adirondacks, consider hiring the seasoned expertise of renowned author, guide, and naturalist Ed Kanze. With his deep-rooted passion and extensive knowledge of the region, Ed Kanze offers an immersive experience like no other. As the brisk air sets in and the landscape undergoes its seasonal transformation, Ed's guidance will lead you through hidden trails, secluded waterways, and breathtaking vistas. Discover the secrets of the Adirondack wilderness as Ed shares his intimate understanding of the flora, fauna, and rich history of the region. From birdwatching and wildlife tracking to engaging stories of the land's past, Ed's captivating narratives and keen eye for detail will leave you with cherished memories and a profound appreciation for this stunning wilderness. So, step into the natural wonders of the Adirondacks with Ed Kanze by your side, and let the magic of November unfold in all its glory.