Six Reasons to Visit Lake Placid this February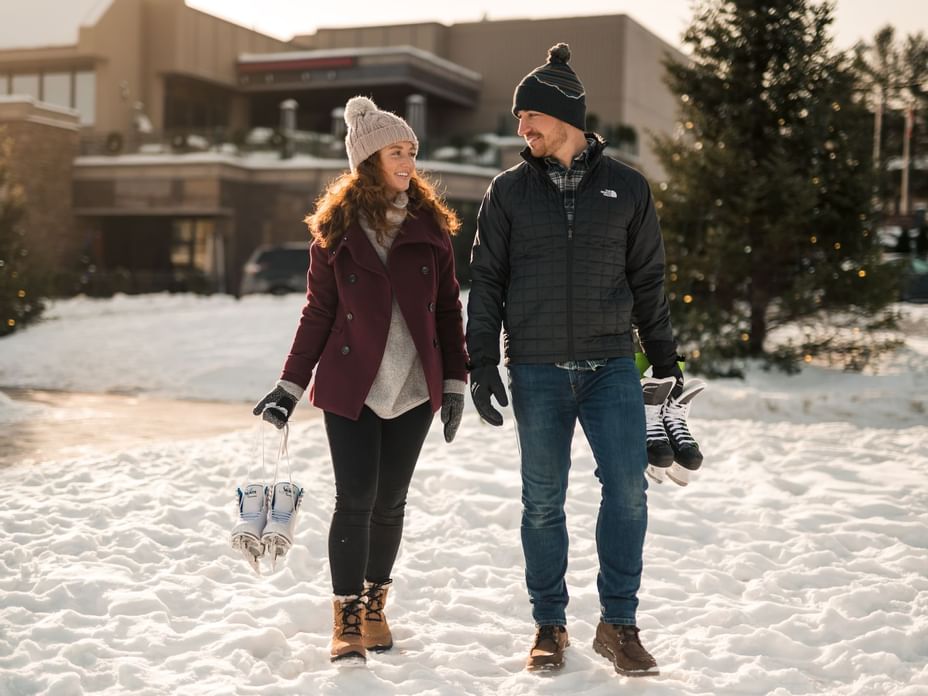 The kids are out of school, the snow is falling, and with so much happening in and around the High Peaks, this is the perfect time to get away for a family vacation in the Adirondacks.

The Lawnchair Ladies in the Saranac Lake Winter Carnival parade are legendary!
Winter is a time for celebration.
Winter Carnival brings nine days of fun and games to the village of Saranac Lake. Despite the cold, this is a great time for city folk to bundle up and savor small-town life at its warm and lion-hearted best. Whether it's uniquely Adirondack games like ice bowling or the frying pan toss, or decidedly different parade features like the Saranac Lake Lawnchair Ladies, or the always spectacular storming of the ice palace (yes - a real palace made of ice cut from Lake Flower), you've never seen a celebration like the annual Saranac Lake Winter Carnival.

Snowshoe rental is included in your stay at High Peaks Resort (subject to availability).
You can stay at the High Peaks Resort.
Sophisticated, cozy, and convenient—get it all at High Peaks Resort. Guests can choose from three unique lodging experiences. Enjoy contemporary, comfortable rooms at the Resort, a mid-century modern retreat and après-ski feel at the Lake House, and extraordinary access to gleaming Mirror Lake at the Waterfront Collection. Plus High Peaks is a pet-friendly resort—which means you can bring your favorite four-legged friend on vacation, too. Even better? Your stay at High Peaks Resort includes a snowshoe rental from our Guest Services desk and admission to the Whiteface Club & Resort Nordic Center.
High Peaks Resort Presidents Weekend Schedule
Friday, February 17 through Saturday, February 25
Kids holiday crafting kits will be available at our Guest Services desk any time of day throughout Presidents Week.
Be Open Yoga with Noelle Wood
Saturday, February 18 at 11 AM and Saturday, February 25 at 11 AM
S'mores Building & Marshmallow Toasting ($5 per s'mores kit)
February 17 through February 25, from 6 PM to 9 PM
Birds of Prey Demonstration
February 18 at 10 AM and February 22 at 10 AM

Whiteface Mountain is home of the greatest vertical drop in the northeast.
The skiing and boarding are sublime.
Whether you're carving fresh powder, zooming down perfectly groomed trails, or warming up over cocoa in the lodge, you're in for an amazing ski experience at Whiteface Mountain. With 160 high-efficiency snow guns, and 245 new hydrants Whiteface Mountain is always setting the stage for a great time. Take advantage of the mountain's dedicated learn-to-ski center, complete with child care, and enjoy skiing the greatest vertical drop in the East. Or if you don't want to spend all day at the mountain and you're looking for a small-town ski hill, Mount Pisgah is the perfect way to get a few runs in without the full-day commitment.

The Forest Music snowshoe trail is lit up for the season. Photo Credit: Jami Santor
This place was made for winter fun.
If skiing isn't your thing, never fear. There are tons of ways to enjoy Lake Placid. Get outside on skates or snowshoes. Head to the Olympic Center, where you can skate on the Olympic Oval or visit the Olympic Jumping Complex and view Lake Placid from the top of the iconic ski jumps. The fun doesn't end when the sun goes down, though. Take a drive over to the Wild Center for the incredible Wild Lights, which takes the incredible WIld Walk, Stickworks, and Forest Music exhibits and turns them into a wonderland of light and sound, twinkling lights, and specially composed music to immerse you in the illuminated forest.

Dancing Bears Restaurant serves brunch seven days a week!
You can eat your way through the weekend.
Mexican? Check. Italian? Check. Chinese? Check. Vegan, steak, seafood? Check, check, check! Whether you're looking for a family-friendly meal, a luxurious dining experience, or a quick coffee and a sweet treat, Lake Placid's wide variety of restaurants offer delicious food for everyone. For classic American pub food with an international twist, Executive Chef José Juan Colón invites you to Dancing Bears Restaurant. Chef Jose's new menu blends international flavors and inspiration with American comfort food - you won't want to miss it!

Celebrate the small stuff. Enjoy a weekend in the Adirondacks and breathe in the fresh mountain air.
You deserve a getaway.
Maybe you're caught up in a crazy work grind. Maybe you're sick of the non-stop news cycle and need to clear your head. Or maybe you just love skiing and snowboarding and want to experience winter to the fullest. Either way, a weekend getaway to the Adirondacks is just what you need. Our fresh mountain air and stunning scenery will do wonders for the spirit, and you'll return feeling refreshed and rejuvenated.