Quality Time with the Grandkids
Experience the Perfect "Skip Generation" Vacation When You Stay at High Peaks Resort in Lake Placid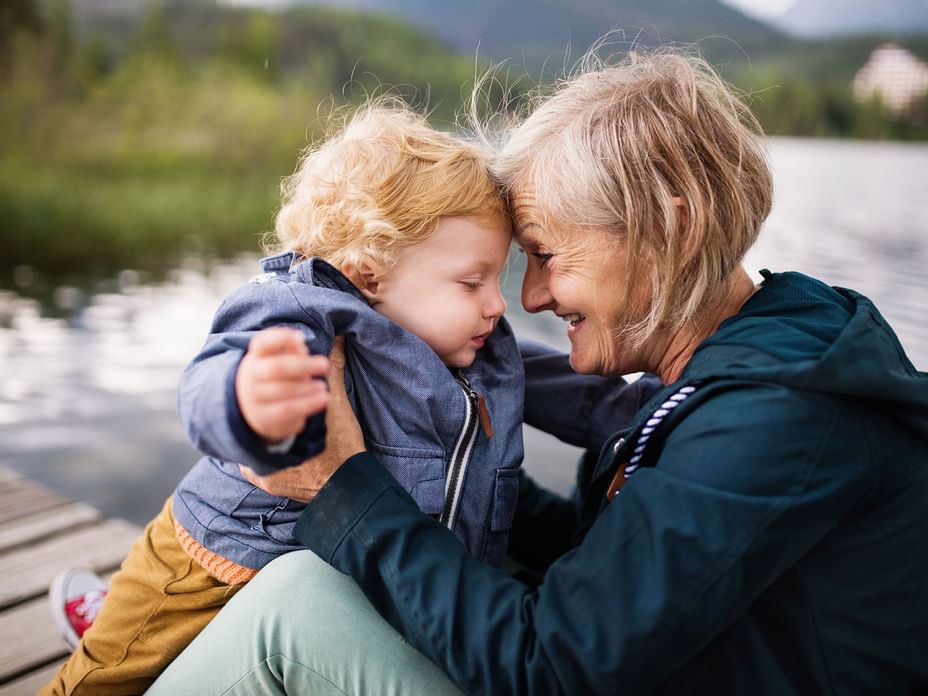 The Perfect Destination
You'll need somewhere close - you love them, but hours of "Are we there yet," on a loop is more than you want to sign up for. You'll need a destination that offers plenty of exciting, energy-burning activities for the kids, and lots of things to do if you choose to stay close to the hotel. At High Peaks Resort, our location in downtown Lake Placid puts you within a few steps of great dining, two lakes, walking paths, entertainment, and attractions - not to mention the variety of indoor and outdoor amenities that come with a stay at each of our three unique experiences.

High Peaks Resort Exclusives
Gotta Have a Pool - Or Four
Oh, the joy of staying at a hotel with a pool when you're a kid! The thrill! The excitement! Away from home in a new place - there is so much to discover. High Peaks Resort offers two indoor pools that are open year-round and two outdoor pools open during the warmer months - that is four pools total! Relax while the kids swim in the indoor pool at the Resort, or bask in the fresh mountain air at our two outdoor pools.
Two Stunning Lakes
Mirror Lake and Lake Placid are two of the Adirondack Region's most iconic lakes. Lake Placid, the bigger lake that gives the town its name, is a short walk from High Peaks Resort and offers boat tours and boat rentals in the summer. Mirror Lake is just across the street from the resort. In the winter when the lake has frozen, it's the perfect spot for casual ice skating from the Waterfront Collection front door and dog sled rides with Thunder Mountain Dog Sled. In late spring, summer, and early autumn, it's where our fleet of stand-up paddle boards, kayaks, and paddleboats are available for our guests to use. Speaking of which…
Recreation on the Lake
We offer a variety of recreation equipment included in your stay at High Peaks Resort year-round for our guests' enjoyment of the Adirondacks. Borrow a kayak, rowboat, stand-up paddleboard, or paddleboat for use on Mirror Lake during the summer, or explore the frozen lake on snowshoes in winter. Simply check with the front desk on availability and enjoy the lake!
Bonfire
The Resort is part of a three-property experience, which includes Lake House at High Peaks Resort. Located across the street from the resort, Lake House offers a rainy-day haven in its great room. Play board games together or relax by the fire while the kids entertain themselves. It's also a great place to be in the evenings as the outdoor bonfire offers a gathering place for our guests to enjoy s'mores and the start of the evening (available summers and over winter holidays, weather permitting).
Kid-Friendly Dining
Dancing Bears Restaurant, our on-site restaurant, provides a well-rounded, kid-friendly place to eat right on Main Street. Dine in-house, and then stroll down the way for an after-dinner treat from one of many shops on Main Street.
Off-Site Adventure
The Adirondack Mountains are synonymous with adventure, and when you stay with us, you are within a short drive of many adventure attractions. High Falls Gorge, located just a few miles allows you to walk along catwalk platforms to see the waterfalls up close and personal. Scale mountaintops at Whiteface Mountain drive, hike, and ride to the top for 360-degree views of the Adirondack Mountains. At the Wild Center adults and kids can dive into the natural world with indoor museum exhibits and outdoor exploration over the trees on the world-famous Wild Walk. For the artistic family, The Peaks Paintbar located on Main Street, Lake Placid, is a paint-and-sip venue for the whole family. There's plenty to explore that is as engaging for kids as their grandparents!

Things to Do For the Grandparents
18 Holes at Whiteface Club & Resort
Share your favorite pasttime with your grandkids at Whiteface Club & Resort. You'll both enjoy the breathtaking views of the Adirondack Mountains as you navigate the well-manicured greens and rolling hills of the course. Not only will you get to bond over your shared love of the game, but you'll create memories that will last a lifetime, all while taking in the beauty of one of the most stunning golf destinations in the country.
Walking Path
Right outside our doors, Mirror Lake offers a plethora of on-the-water fun, as well as a 2.5-mile walking path around the lake. If you're an early riser, it can be a wonderful way to get some exercise while enjoying the mountain scenery.
Shopping
Main Street in Lake Placid offers boutique shopping and dining. Find unique home goods, gifts, and clothes with an Adirondack twist.
Make this spring break extra special with a getaway at High Peaks Resort and treat your grandkids to a special and memorable "Skip Generation" vacation in the Adirondack Mountains.
What is a "Skip-Generation" Family Vacation?
A skip-generation family vacation is when grandparents travel with their grandkids and leave the kids' parents at home. It is most common with families in which the grandparents are retired and the parents are still in the workforce. It is a great time for grandchildren to bond with their grandparents if they don't live close to one another year-round or simply because they enjoy spending time together without needing Mom or Dad around too.