Lake Placid & Adirondacks Activities Guide
Winter Edition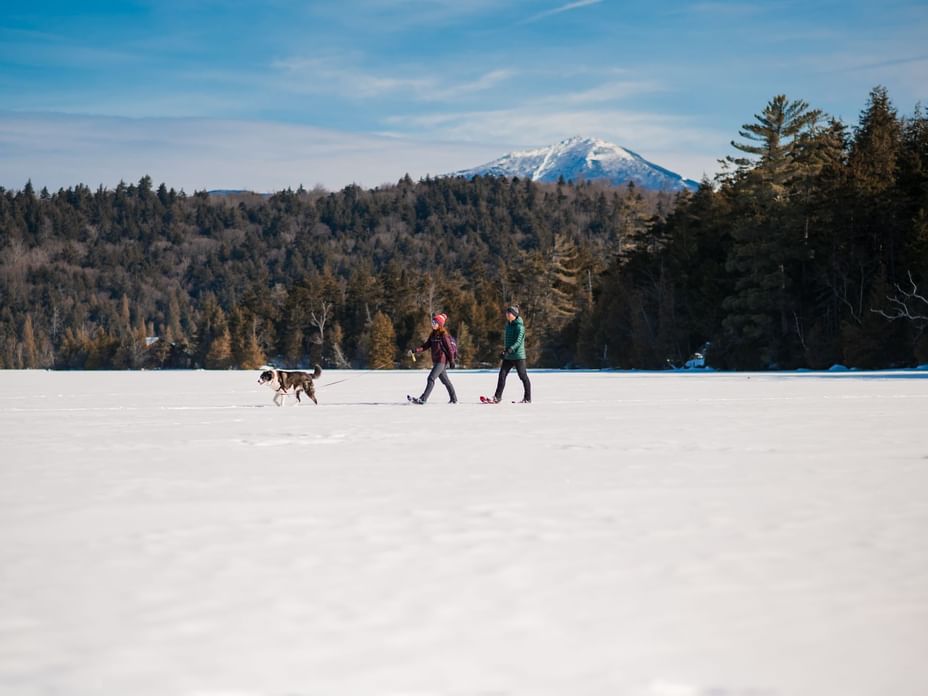 With 6-million acres of wilderness, the Adirondack Mountains hold unlimited potential for adventure and with so many possibilities it can be hard to decide on all the things to do this winter. To help you plan your experience we asked Ed Kanze, Naturalist and Adirondack Guide, what's special about winter in the Adirondacks. To leverage Ed's advice, see our list of suggestions below for each month this winter. Enjoy your fun in the Lake Placid region and don't forget to stop by and see us downtown.
December
We're Dreaming of a White Christmas
Dreaming of a white Christmas? Dream no more. Bring your family to the Adirondacks and enjoy a warm-hearted Christmas season the old-fashioned way. Snows come, but temperatures often remain moderate. This is a great month to try on a pair of snowshoes for the first time. If you get hooked, an entire winter lies ahead!
Resort Holiday Season Suggestions
Rest & Relax in the Adirondacks
For guests looking for an excuse the rest and relax, December offers a bumper crop of excuses, starting with short days and cold weather. Bring a few good books or find them at local bookshops! Shopping in the boutiques and galleries of Saranac Lake and Lake Placid beats big-city department store shopping by a country mile. Enjoy! If your form of relaxation requires New York mountain air, local outfitters offer a winning combination of expert advice and first-rate equipment for outdoor activities from snowshoeing to ice fishing, skiing, snowboarding, and snowmobiling.
Resort R&R Suggestions
This winter get cozy inside at The Peaks Paintbar. Enjoy a tasty treat and a glass of wine and tap into your creativity with a unique night out in Lake Placid. Families are welcome (afternoon classes may be more appropriate) and everything you need will be provided for you. All you need to bring is yourself! Guests of High Peaks Resort receive a generous discount on their Paintbar experience. Contact us with your reservation details for more information!
You don't have to look hard to find a reason to treat yourself! Let us spoil you at the Spa & Salon at High Peaks Resort or take something home to spoil your loved ones.
Exploring Main Street in the Olympic Village is one of our favorite holiday activities, but you don't need to go far from High Peaks Resort to find a treat for every member of your family. Some of our favorite shops are steps from our three properties, like Darrah Cooper Jewelers, Your CBD Store, Lake Placid House of Jerky, and The Peaks Paintbar. Venture further down Main Street for culinary delights, bookstores, game stores, and more!

January
Snowshoe Straight into History
Top on the list of things to do in the Lake Placid region during January: our excellent cross-country and downhill skiing conditions, aside from the occasional thaw. Deep snow makes for great snowshoeing. One beauty of this kind of recreation is that someone without skill or prior experience but in reasonable physical shape can do it nearly as well as an expert. Traveling by snowshoe is to step straight into the New York Adirondack wilderness history books.
Resort Ski & Snow Suggestions
Whiteface Club & Resort Nordic Center is the perfect place for everyone to enjoy a day full of snowshoeing and cross-country skiing. Located just 6 minutes from High Peaks Resort and boasting a rental shop right on-premises you can plan a day full of adventure the whole family will love. When you stay at High Peaks Resort every winter vacation is a ski vacation; beginning December 26, your admission is included (weather permitting) and complimentary snowshoes are available at our Guest Services desk (subject to availability).
Have an active dog and want to explore with your four-legged BFF? Check our 5 Favorite Pet-Friendly Trails for Lake Placid winter adventures with Fido.
Engage your senses and experience the living, breathing forest with Adirondack Riverwalking & Forest Bathing. Although the winter forest seems to sleep, there is still so much to see, and so much to experience and the quiet stillness only enhances it. Your Forest Bathing guides are there to help you tap into it and notice what is right in front of your eyes.
From January 12 to 22, Lake Placid makes history as collegiate athletes from more than 50 countries will gather at the Olympic Alpine Village in Lake Placid, New York, to celebrate, compete, and enjoy a one-of-a-kind winter festival experience when the region hosts the 2023 FISU World University Games. This is only the second time the United States has hosted the games and is second in scale only to the Olympic Winter Games.
Make Your Winter Vacation a Learning Experience
Animal tracking tends to be excellent this time of year. Discover your inner Sherlock Holmes! Animals are hard to see. Tracks are easy! The dead of winter is anything but moribund when it comes to birds. For birdwatchers, this is a time of year to get out and search for winter visitors from the far North, including white-winged crossbills, red crossbills, pine grosbeaks, evening grosbeaks, Bohemian waxwings, and common redpolls. Bald eagles turn up sometimes, too. Love trees? Adirondack forests are magnificent and inviting in winter. There's no better time to start learning plants than in mid-winter. With leaves down and fields and forests buried in snow, the candidates are whittled down to a charismatic few. Fireside chats represent a venerable Adirondack tradition. If you don't have someone to talk to or you're hungry for fresh and illuminating conversation, hire a guide to regale you with tales of the good old days, the rotten old days, the wild and woolly present, and more. Hot cocoa or something stronger by the fire heightens the pleasure.
Resort Wildlife Education Suggestions
Weekends and select weekdays this winter the Wild Center in Tupper Lake takes visitors on a unique journey through Adirondack natural history. While the summer features the Wild Walk through the trees, the winter trails below the famous Wild Walk are not to be missed. This winter, be sure to include Wild Lights on your itinerary and enjoy an immersive night-time light and sound experience through the forest.
Hiring a licensed Adirondack Guide is the finest way to experience the Adirondacks! These intrepid locals carry on a 200-year-old tradition of leading explorers through the Adirondacks, telling stories, imparting wisdom, and ensuring you have an exceptional experience in our northern woods.
Catch Up on Winter Reading
Guests who have gotten away from it all to come to the Adirondacks may love nothing more than to relax indoors on a winter day and dive into a good book. The most famous novel set in the region is Theodore Dreiser's An American Tragedy, and it's a humdinger. Lovers of nonfiction may enjoy the 2008 biography of Samuel de Champlain by David Hackett Fischer, Champlain's Dream. Nature lovers may enjoy Ed Kanze's Adirondack: Life and Wildlife in the Wild, Wild East. These books and more are available from local booksellers.
Resort Suggestions for Places to Read
At High Peaks Resort and Lake House, your guest room extends beyond your door. Our lobby is chockablock with nooks to cozy up with a good book and a hot cup of coffee for a few hours of digital disconnection and self-reflection.
Looking to explore the literary Adirondacks? The Bookstore Plus on Main Street has an entire section devoted to Adirondack titles and authors both online and in-store, including Ed Kanze's memoir Adirondack: Life and Wildlife in the Wild, Wild East which may be of particular interest to nature lovers.

February
Explore the New York Outdoors
Forget what the calendar says. February marks the beginning of spring when it comes to the New York Adirondacks. The sun rises earlier and lingers later in the afternoon, making days longer. Temperatures moderate. On mild days, snow fleas pepper the surface of the snow. These ancient insect-like invertebrates don't bite and show that winter is losing its grip. Buds swell on trees that flower and leaf out early, esp. maples and elms. Sought-after winter birds are still here in number. Listen for barred owls hooting at night. They seem to say: "Who cooks for you? Who cooks for you-allllllllllll." By day, chickadees start singing their spring love songs.
Resort Cross-Country Ski and Snowshoe Suggestions
Some of our favorite trails for cross-country skiing and snowshoeing can be found at the Paul Smiths Visitor's Interpretive Center. Open to the public seven days a week with cross-country ski and snowshoe rentals on weekends, the Paul Smiths VIC is the perfect spot if you want to explore more options for a variety of snow sports and experience levels.
Looking for a bit more adventure? Want to ski the Adirondacks like a local? There are lots of cross-country ski trails that are near Lake Placid but feel like a world away.
Enjoy Prime Alpine Ski Conditions
Milder temperatures make for some of the most pleasant winter outings of the year. Skiing and snowshoeing conditions remain fabulous.
Resort Downhill Skiing Suggestions
Boasting new construction and extensive remodeling, the experience at Whiteface Mountain is better than ever. With the greatest vertical of any lift-serviced mountain in the Northeast, mile after mile of impeccably groomed cruising trails, 98% snowmaking coverage, and a comprehensive ski and snowboard school - there's more fun at Whiteface than you can have in a weekend.
If you're looking for a small-town ski hill experience where you can enjoy a few hours of skiing, shopping, and exploring then Saranac Lake's Mount Pisgah is the perfect spot for you! Great for beginners who want an unintimidating experience and advanced skiers who want to get a few active hours into a full day of Adirondack charm.
Celebrate Winter
Winter Carnival brings nine days of fun and games to the village of Saranac Lake. Despite the cold, this is a great time for city folk to bundle up and savor small-town life at its warm and lion-hearted best.
Carnival Time In the Olympic Village
Whether it's uniquely Adirondack games like ice bowling or the frying pan toss, or decidedly different parade features like the Saranac Lake Lawnchair Ladies, or the always spectacular storming of the ice palace (yes - a real palace made of ice cut from Lake Flower), you've never seen a celebration like the annual Saranac Lake Winter Carnival.
Join us Presidents' Week for s'mores at the fire pit, snowshoeing on Mirror Lake, and larger-than-life board games at Lake House.